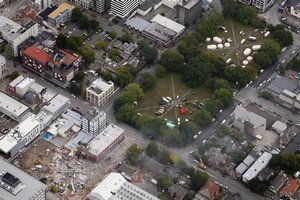 I do wish, if businesses are going to donate to the people of Christchurch, that they do so without linking their donations to marketing drives.
Five dollars from every membership sold will go to the Red Cross; sign up now and we'll give $10 to quake relief - blah. Either give the money freely or don't.
Trying to drum up business on the back of a devastated city seems plain wrong.
As for concert promoters trying to blame poor ticket sales on the quake - that's spurious. The inaugural Grassroots event - which was to be held over Easter Weekend on Puhinui Peninsula and which was to feature, among others, BB King, Grace Jones and Ben Harper - was cancelled this week. In a poorly written press release, the organisers said: "Since the devastating earthquakes in Christchurch and the consequential standstill with which the entire country has come to (say what?!) the ... decision has been made to cancel the event.
We do not feel right seeking real media coverage for the festival while the country is so affected by this terrible disaster."
A number of businesses have said spending slowed after the quake as people all over the country reeled from the news. But all have said they've picked up again.
Maybe the news of the quake affected ticket sales, maybe people just didn't want to go to an outdoor festival at a time of year when the weather's dodgy. But to try to dress up poor ticket sales as some sort of altruistic concern for the people of Christchurch is pure lique-fiction.