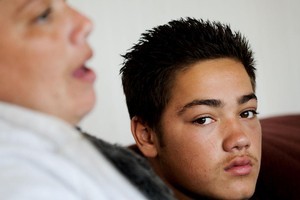 A 13-year-old excluded from school for anger-related incidents in the wake of his father's death is still waiting to return to the classroom a year later.
Shay McIsaac was stood down from Auckland's Edgewater College in February last year over a fight two days after his dad died.
Police were involved in the out-of-school-hours incident but no charges were laid.
Several weeks later he was excluded after throwing a desk in class and swearing at a teacher.
He and his mother Rochelle acknowledged his bad behaviour and promised he would behave if he was given another chance.
Shay said he had undergone therapy, sent a written apology to the teacher he abused and wanted to go back "a lot" so he could follow his dream of working on cars like his father.
Rochelle is awaiting a directive from the Education Ministry on whether he can go back to the Pakuranga college or another school.
He is filling his days by keeping fit at a gym, reading comics and using a computer.
Edgewater principal Allan Vester said Shay's behaviour had posed a health and safety issue and the school had to remove him from class as a result. But he was "surprised" it had been so long since he had been in class and was concerned he had "slipped through the cracks".
He said once the ministry took over such cases they "drop off our books" and it was up to them to decide the boy's future.
Vester said Shay was not nasty and came from a good family and was heartened to hear he had received help for his anger.
"Our board is pretty keen to help kids and would probably give him another shot," he said.
Youthlaw acting senior solicitor Vanushi Walters said it was "outrageous" a 13-year-old had been waiting so long and the case needed "urgency".
Walters said Shay had experienced "a rough year" after his father's death and was "clearly" having trouble coping.
She said the ministry had to prioritise placement of excluded pupils, especially if they were children under 16 who were "particularly vulnerable".
"If these kids are left waiting for seemingly endless periods of time without being placed in school we risk putting a huge burden on families to ensure supervision of them during school hours.
"They may also end up in the youth justice system due to boredom or a valid frustration with a system that seems to be ignoring them," she said.
Following Herald on Sunday inquiries, the ministry's northern regional manager, Bruce Adin, announced a meeting tomorrow with Vester, his deputy and a board representative.
They would discuss the "possibility" of Shay returning to Edgewater or another school.
As of Friday, the ministry was helping 248 students - of the 760,000 nationwide - back into legal learning environments.
Most had been out of school for under six months, but 86 students had been excluded for up to two years.
Adin said the ministry was concerned about any young person not engaged in education for an extended period and was working to reduce the time taken to get them back in class.
A report last year by Action For Children and Youth Aotearoa said the number of children suspended or excluded increased substantially in the past decade.
It said there had been calls from the Office of the Children's Commissioner and other organisations for an independent authority to review suspensions, exclusions and expulsions.