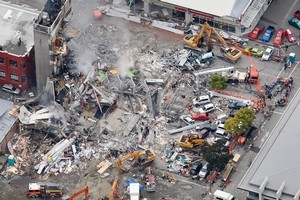 Police say it may take some days to recover up to 4000 vehicles from the cordoned off area of Christchurch's earthquake-ravaged CBD.
They are asking for patience as the initial focus is on removing vehicles parked on streets as they had the least safety issues and would open up the roads, giving better access to the emergency services and contractors.
Police would then begin trying to retrieve vehicles from car parks and other off-street areas. However, some might not be recoverable if they are close to unstable buildings or in dangerous underground parking areas, Superintendent Russell Gibson said.
People can register their vehicle details with the vehicle recovery team by phoning 0800 311 311, between 8am and 5pm.
Registration did not mean a vehicle would be instantly reunited but would mean returning it would be easier, Mr Gibson said.
"We fully appreciate that people being without their vehicles is a source of frustration but the rescue and recovery operation had to be made a priority and public safety within the CBD remains an issue," Mr Gibson said.
No vehicle would be handed over unless the owner had the keys, up-to-date proof of ownership and identification.
In cases where owners do not have keys or the vehicle cannot be driven it will be taken to a collection point and owners will then need to organise replacement keys or a tow from the collection point and liaise with their insurers.
- NZPA