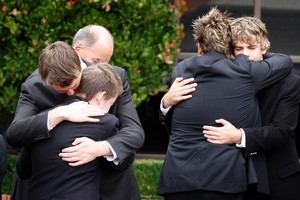 Dominic Bell sent his partner a text message at 12.46pm to say he was going to pick her up for lunch. But he never showed up.
A few minutes after he sent the message, a devastating 6.3 magnitude quake hit Christchurch, and the popular Christchurch doctor, 45, known as Buck, was caught in the collapse of his work building.
"It was the last time I heard from him," his partner of five years, Alison Bennie, told hundreds of mourners at a requiem mass in Christchurch yesterday.
"I'm just incredibly grateful I got to spend the rest of his life with him. And I just wish I could have spent the rest of mine with him."
Dr Bell's practice was in the Canterbury Television (CTV) building, where dozens of people were killed in the quake.
His family take solace from the fact he was helping people right up until his death.
"Dad was always putting others before himself," his son Harry told the service.
His sister Virginia said: "Most of all he loved people. He was so good with them. He loved to talk. He loved to listen to stories.
"His patients loved him. He shared his own life and his own experiences ... and if it was necessary, he would give them a hug."
A message from a patient of Dr Bell's with mental illness recalled a recent appointment where "he even gave me a big hug and said it would be all right".
Aside from his fine reputation as a doctor, Dr Bell was remembered yesterday as a free spirit with a wicked sense of humour, a love for drama and music, and a "unparalleled" passion for rugby.
When his teams, the All Blacks and the Crusaders, lost, Dr Bell would lower a New Zealand flag he made to half mast above his home.
The two teams were like "his adopted children".
One of seven children, Dr Bell should never have been born at all, the service heard.
His mother had been advised against having any further children. But after receiving the advice, she said, "Sorry, the horse has already bolted."
Harry Bell spoke of "the greatest father a son could hope for".
"He was always there for us when we needed him the most."