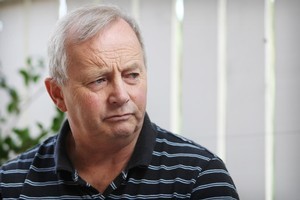 The Manning family, whose red-eyed vigil for their mother became a symbol for Christchurch's mood, are overdue for a change of luck.
Donna Manning, a solo mother, perished in the Canterbury TV building, aged 43. Ms Manning's house has since been burgled, rubbing salt in the wounds of her grieving children Libby, 18, and Kent, 15.
On Monday, Ms Manning's brother Maurice Gardiner farewelled his wife, Nola, who died last Friday after a long illness.
Mr Gardiner dismissed suggestions that his family were hard done-by, saying hundreds of other Cantabrians were also grieving.
"This is the path our lives have taken. It's not bad timing, and it's not bad luck. Stuff happens.
"What matters is the calibre of the person. And the family have been amazing."
He said that since the quake, his family had learned to wait. Day after day they sat outside the CTV building as Urban Search and Rescue workers combed through the building's rubble.
"We just waited patiently. None of us got angry or impatient. We just totally supported and respected the recovery people, the process. It was matter of 'just wait'."
Ms Manning's death was confirmed yesterday. Mr Gardiner said the family had planned a "very peaceful" service for Monday to contrast with the destruction that led to her death. "We want it to be as far as possible from the horrible way the building went down."
Ms Manning was a producer and presenter of CTV's Living Programme. Family have described her as "vibrant", "always laughing", and "an amazing mum".
Her brother has received 200 emails - from her proteges who have ended up on CNN, from loyal viewers and from strangers.
Mr Gardiner said her children were still inconsolable. "The kids are finding it a little tough now. When they didn't have an answer there was hope. When that hope is taken away ... they're faced with the reality that [Donna] has passed."
The family have set up a trust to ensure that Kent, who is at high school, and Libby, now in her first job, are looked after.
"They're right at that stage where they've got plans for the future. We want to make sure the dreams that Donna had actually come to pass."
Mr Gardiner's wife died quietly. He said that despite "falling apart now and then", he was surviving.
Donations to the Elizabeth and Kent Manning Trust can be made at Kiwibank, 38-9011-0430699-Z000