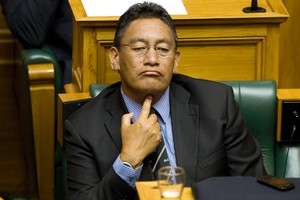 Independent MP Hone Harawira has held the first of a series of meetings to discuss setting up a new political party.
About 20 people attended today's meeting in Auckland and Mr Harawira did not speak to the media after it.
Mr Harawira quit the Maori Party last month before its national council ruled on a disciplinary committee recommendation to expel him.
The recommendation was the result of a complaint laid against him by his caucus colleague Te Ururoa Flavell over Mr Harawira's outspoken criticism of the party's relationship with the Government and accusations it was supporting anti-Maori policies.
Mr Harawira has said he intended holding a series of meetings around the country to gather support for a new party.
When he left the Maori Party Mr Harawira said an agreement had been reached that it would not stand against him in his Te Tai Tokerau electorate at the next election, and if he formed a new party it would not challenge the Maori Party's four MPs.
He also said agreement had been reached that neither side would criticise the other, but in Parliament this week he lashed out at his former colleagues over their support for the legislation that would replace the Foreshore and Seabed Act.
Mr Harawira said today the party had broken the deal, which appeared to have fallen apart.
"It just seems that any deal the Maori Party make isn't the sort of deal that Maori people feel is going to be honoured," he told Radio New Zealand.
Mr Harawira said there was wide interest in a new party and he had talked to several former MPs "and all sorts of other people" about forming it.
- NZPA