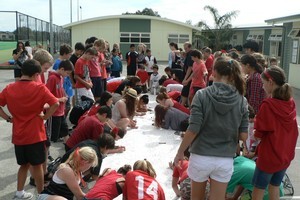 After last year's September 4 earthquake, Ferndale School in the Christchurch suburb of Merivale felt aroha from across the country. It is no different this time around.
On September 9, staff arrived at the special needs school to find it had been looted, with laptops, digital video cameras and digital cameras among equipment stolen.
However, as a result of media attention the school was flooded with donations of cash, equipment and offers of services, and was able to replace the stolen gear.
After the February 22 quake, students from Northcross Intermediate on Auckland's North Shore have made the school a 5m-long banner - although Ferndale Board of Trustees chairwoman Jackie Morris does not know what it has on it.
"All the children at Northcross Intermediate in Torbay did it - we are waiting to see what it is going to be.
They are getting it couriered down. We should receive it today or Monday."
"We are thrilled that we are able to bring some hope and messages of love and support for the students, staff and families of those affected at Ferndale," said Mr Maclennan.
Mrs Morris said Ferndale, which operates a base school in Merivale as well as six satellites across the city, was impacted a lot more by the February 22 quake than last year's.
"There was so much more shaking this time.
"It was the middle of lunch time. I was in the staff room - there was food falling everywhere. Filing cabinets were tossed across the room," she said.
"It was a miracle no one got hurt."
The Merivale base school opened yesterday and three of the satellites have also opened since the quake. The Bromley, Hammersley Park and New Brighton units remain closed.
Mrs Morris was not aware of anyone at the school having lost any loved ones in the quake.
For those students who are returnin,=g, it is about finding some normality, she said.
"I think it has been a lot harder for them and their families [this time around]. The length of closure was a lot longer. And they were at school at the time [of the quake]. It has impacted them much more.
"Our staff were just brilliant. These were people that were worrying about their own family. They were just fantastic."