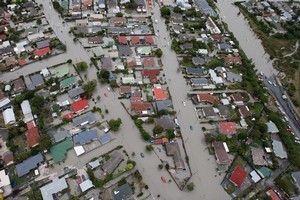 All 180,000 Christchurch houses will be assessed for damage over the next eight weeks in a speeded-up Earthquake Commission (EQC) process.
Earthquake Recovery Minister Gerry Brownlee said the rapid assessments would begin today.
All homes would be ranked into categories of damage, and then homeowners would be given a timeframe for when they would receive a full EQC assessment.
"A full EQC assessment can take up to five hours so it could leave some homeowners in limbo for several months if there wasn't a rapid assessment process," Mr Brownlee said.
EQC was expecting up to 300,000 claims for land damage, built property damage, and contents damage for residential property following the February 22 earthquake.
He said the only other insurance company to have dealt with such a high number of claims was the United States company State Farm, which received 400,000 after Hurricane Katrina.
EQC chief executive Ian Simpson said they would be assessing homes within 15 to 30 minutes. Properties requiring emergency repairs to be weather-tight, secure or sanitary would be the first priority.
The EQC team would look at all properties, even ones which had not lodged an EQC claim..
"However, only those properties that are insured and have lodged an EQC claim will receive a full assessment," Mr Brownlee said.
The teams would start in the suburbs most affected by the earthquake - Avondale, Wainoni, Bexley, Aranui, Avonside, North Linwood, Bromley, Mount Pleasant and Redcliffs - and move outwards.
Meanwhile, an extra 5000 chemical toilets arrived in Christchurch today, as home necessities were slowly restored to quake-affected residents.
The chemical toilets arrived last night from China and would be distributed to Avondale, Westhaven and Bromley over the weekend, Civil Defence said.
A further 7500 toilets were expected in the next few days, and 5000 were due next week.
Yesterday, running water had been restored to 89 percent of Christchurch households, with 120 teams working to fix broken pipes.
And just one per cent of Christchurch residents were waiting for their power to be restored, lines company Orion said yesterday.
Rugby World Cup Minister Murray McCully said a decision on whether the city could host five pool matches and two quarterfinals could be made as early as next week.
The International Rugby Board had the final say on whether games in Christchurch will go ahead.
The official death toll remained at 166 and police have so far named 83 of the dead. The toll is expected to rise to at least 200.
- NZPA