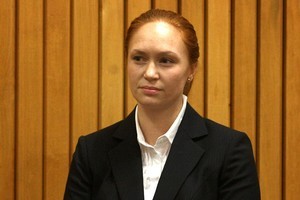 A Rotorua woman who sparked an international manhunt after she and her boyfriend left the country millions of dollars richer by accident says she is glad to be back in New Zealand.
But Kara Mary-Jo Hurring now faces a fight to clear her name of money-laundering and theft charges.
Yesterday, Hurring said outside Rotorua District Court that she was glad to be home.
But she refused to answer questions about why it took her nearly two years to return to New Zealand or the whereabouts and wellbeing of her young daughter, Leena.
Hurring, who is unemployed and bailed to an Auckland address, was then rushed away by a relative waiting in a taxi.
Earlier, she appeared confident as she sat in the public gallery waiting to be called to the dock.
Wearing a black suit and with her hair dyed red and tied back, she nodded calmly as Judge Jocelyn Munro remanded her at large to reappear for a post-committal conference on March 21.
Hurring, who turns 32 next week, is co-charged with her still-at-large ex-partner Hui (Leo) Gao with eight counts of money laundering and one of theft of $6.7 million.
In April 2009, Gao asked for a $100,000 overdraft from the Westpac bank, but got a $10 million windfall after a "keying error".
Police allege the couple transferred the $6.7 million before the bank's mistake was discovered on May 5.
Gao left New Zealand on April 29 and Hurring on May 3, before the error was noticed. Westpac recovered more than half of the cash and fired the teller responsible.
Court documents allege Hurring was involved with the money-laundering transactions between April 28 and May 5 during which $3.7 million dollars were transferred.
Three of the transactions totalling $1,201,663.60 happened on April 29.
Outside court, her lawyer Simon Lance said Hurring denied any involvement with the alleged offences.
"And it's her intention to plead not guilty and fight these charges in due course."
Investigation head Detective Sergeant Mark Loper would not comment yesterday, but police spokeswoman Jacky James said police would continue working with law-enforcement authorities in Hong Kong and mainland China in their hunt for Gao.
She said police were also working with local government agencies including Internal Affairs, Customs and the Ministry of Foreign Affairs and Trade.
Hurring's mother, Sue, would not comment yesterday.
Hurring was arrested at Auckland Airport late last month after a 22-month investigation.
It is understood she sought support from her former partner and the father of Leena, Andy Yang, after she separated from Gaolast year following a gambling blowout in Macau.