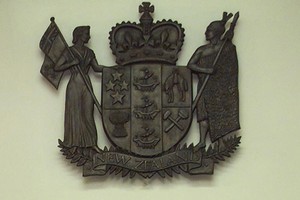 Christchurch's Pele Laifa was described in court as having the criminal history of a lazy, violent, drunk - but the city needed him.
He will be released from prison within the next few days and he already has work on offer.
"If he is a paver, he is going to have work coming out his ears," said Christchurch District Court Judge Raoul Neave at Laifa's sentencing at a court sitting at the men's prison today.
"I would have thought that nobody in Christchurch in the short term is going to have any excuse for being unemployed. There is going to be plenty of work to be done."
Judge Neave described the 23-year-old as a lazy, violent, drunk after seeing his pre-sentence report, prepared for a sentencing in November, and looking through his pages of criminal record print-out.
Laifa has been in custody on remand since September 29. That is the equivalent of a 10-month jail term.
He was sentenced today on two charges of assault - including launching a haymaker that didn't connect at a bouncer at an inner Christchurch bar - breach of his partner's protection order, failing to answer bail, and two breaches of supervision.
Defence counsel Trudi Aickin said Laifa had fallen into bad habits in the company of drinking friends but now acknowledged that he needed to address his alcohol problem.
"He wants to return to live with his mother and help her get the family back on track."
Judge Neave said Laifa had a long list for violence, dishonesty, alcohol-related offending, and breaches of court orders.
"That's a particularly unimpressive history at your age."
He noted that Laifa had made life extremely unpleasant for his ex-partner.
"But you are somebody who has some skills which I would think the community will have a great deal of use for in the future," said the judge.
He sentenced Laifa to 10 months' jail, a term which will be covered by his time on remand and he will be released almost immediately. For the next six months he will have to take treatment and counselling as directed as part of his prison release conditions.
- NZPA