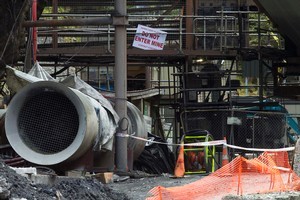 Families of the dead men still at Pike River want the recovery of their loved ones' bodies to be a condition of a proposed sale of the mine.
Receivers PricewaterhouseCoopers today announced they are looking to find a buyer for the mine where 29 men were killed in a November 19 explosion.
There were already a number of companies interested, receiver John Fisk said.
The $6 billion of coal still inside the mine makes it a valuable asset, he said.
"They were unsolicited approaches," he told Newstalk ZB.
"We actually haven't gone out and formally asked for expressions of interests but that would be our next step.
"One of the next steps for us will be to look at a plan to call for expressions of interest from parties that may wish to invest in or purchase the asset."
Bernie Monk, father of the dead Pike River miner Michael Monk, said he wanted any buyer to give a written assurance they will allow a body recovery operation.
Families had written to Mr Fisk asking for that to be made a condition of a sale but had not yet received a response, he said.
"Dealing with the receivers was the families biggest fear. We've got to work with them, but their main thing is having a thing to sell.
"What's going to happen to our guys? We have to work with them on that."
Cameras put down boreholes into the mine have revealed a large rock fall and widespread damage from successive explosions, Mr Monk said.
But he was still holding out hope that bodies were still intact in the mine.
"That rockfall hasn't buried everyone. Either we get them out this year or in a year's time.
"On that first Friday my English friends at the mine sat me down and said 'Bernie, your son's never coming out of that mine alive'. Since then it's been knockback after knockback. But until they show us that evidence that there is nothing there to recover we're not going to give up."
Grey District Mayor Tony Kokshoorn was backing the families efforts.
He said the receivers had to do everything they can to recover the remains of the men.
"I think it's a moral obligation from the receivers now to go back to their shareholders to find the cash to enable that recovery to happen."
Mr Kokshoorn said the families are still grieving, and won't be able to move on until they get their loved ones' remains back.
Mr Fisk said the mine would be handed back to police if the recovery of bodies became a possibility.
He said the body recovery operation is the responsibility of the police and that operation stopped some time ago.
PricewaterhouseCoopers' responsibility was to recover the money lent to secured creditors, he said.
"If we can to a position where evidence or body recovery becomes a possibility again, then that task will be handed back to police," he said.
John Fisk said the families of the 29 miners will be told if re-entry into the mine is possible.
He said there are no explosions happening in the mine, but it's not in a state where people can enter.
A robot from Western Australia would be sent up the mine shaft over the weekend or early next week, he said.