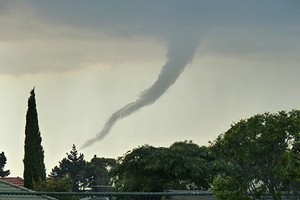 A funnel cloud that drifted across South Auckland yesterday looked like a tornado but was harmless, says the MetService.
Several photographs of the funnel were sent to the Herald, including one from Daria Williamson, who saw it over Onehunga about 6.15pm.
"There were pretty high winds at the bottom, as you could see the cloud whipping around the base."
Jason Hopping saw it from the Botany Downs/Flat Bush area.
"It was a cone trying to form in the west of South Auckland but it didn't fully form and broke up."
Police received many calls from people concerned about a tornado. MetService forecaster Paul Mallinson said: "It's a funnel cloud in the air and if it reaches the ground, you start thinking about calling it a tornado. If it had touched down on the surface and it formed over water, it might have formed a water spout."
WeatherWatch.co.nz analyst Philip Duncan said the funnel was formed by heated air mixing with cooler air and causing the clouds to rotate.
- NZ Herald staff