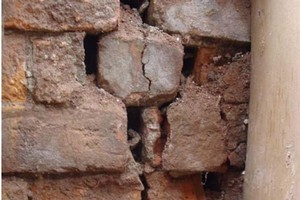 The owners of Auckland's Palace Hotel could be prosecuted after the release of a damning report identifying severe damage to the heritage building before it was knocked down.
The Auckland Council has referred the report to the Crown Solicitor for advice on possible prosecution of brothers John and Michael Chow, who were converting the 1886 building into a brothel when it began cracking and moving on November 18 last year.
The building was demolished several hours later after the Auckland Council invoked emergency powers under the Building Act because it posed a danger to the public and adjacent properties.
The Crown Solicitor is also considering prosecuting companies that worked on the project. These include Clearwater Construction, Graham Crust Architects, engineers Spencer Holmes, Kibblewhite Consultants and Bruce Tricker of BMT Design.
An investigation by three independent engineering firms for the Auckland Council found that the collapse of the Palace Hotel was caused by its basement walls not being adequately supported during its renovation by the Chow Group.
Council building control manager Ian McCormick said: "The investigation shows the movements of the basement walls was due to a loss of lateral support caused by the removal of the timber floor, an over-excavation of the foundations and the removal of concrete basement floor designated to be retained in the approved plans."
He said the building was rotating and moving to 5mm an hour towards the street before its demolition. Large cracks had appeared in the facade and windows were breaking.
The 24-page report by engineers Tonkin and Taylor, Fraser Thomas and Marriott Consulting Engineers concluded that the damage to the heritage building was "widespread, severe and irrecoverable".
Yesterday, Chow Group issued a statement through lawyer Max Tait dismissing many of the claims in the council report and the threat of legal proceedings as nonsense.
"The responsibility of ensuring the construction of the Palace Hotel was undertaken safely and in accordance with plans and specifications, fully approved by council.
"The owners relied at all times on the professionalism of [Spencer Holmes and Clearwater Construction] and views council's threat as simply an attempt to divert public attention from its own failings."
The statement said Chow Group engineer Maurice Harris believed the building was not in a state of imminent collapse at the point where it was decided to demolish it and there were options, such as bracing, which could have saved it.