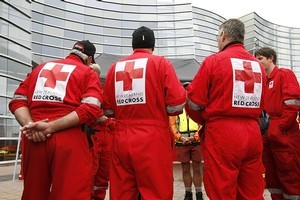 The Red Cross says about 10,000 Christchurch households should receive money from its earthquake appeal fund "within days, not weeks".
Former judge Sir John Hansen, who chairs a commission distributing the appeal funds, said he aimed to hand out emergency and hardship grants of $500 to individuals or $1000 to couples and families at the rate of about 1000 a day.
More than 22,000 people called the commission's toll free number on its first day last Friday, but Sir John said the final number of grants could be about half that.
"The level of devastation and the number of people affected will mean it could well be a higher figure than 10,000," he said.
"It will be another 24 or 48 hours before we are fully up to speed, but we are talking in terms of days, not weeks. Once a grant is approved it will go into people's bank accounts at 4pm the same day."
The Red Cross has easily the biggest pot of funds from the many public appeals launched since the February 22 quake, with $19.2 million raised by Monday plus a further $10 million unspent from its September appeal.
It has received all public donations through the ANZ, ASB, BNZ and Kiwibank banks, Vodafone, Telecom, the Grab One shopping site, the givealittle donation site and the United Chinese Association.
Its emergency and hardship grants are available to anyone who has had to leave their home because of earthquake damage, and to anyone without power, water or sewerage, whether or not they have left.
Sir John said staff needed to see evidence of address such as a power bill. Claims would be cross-checked with information about where water, power and sewerage were operating, and with Work and Income.
Based on the estimate of 10,000 grants, the grants could eat up about $8.5 million of the $29 million available so far.
A further $2 million is expected to go in $10,000 bereavement grants to the families of each of the 200 or more people who died.
Sir John's commission will meet on Monday to consider what to do with the remaining $19 million or so - a figure expected to swell.
The other charity receiving significant public donations so far is the Salvation Army, with $6.2 million at last count on Thursday. It has received all donations through Westpac and a $250,000 donation from the BNZ.
Its social services director, Major Campbell Roberts, said money had been used to feed people at welfare centres, but the Salvation Army was about to start providing $500 "care cards" to people in need as a team moved house-to-house around the suburbs. It has put an initial $2 million in to fund 4000 cards. The cards, developed by Westpac, can be used with PIN numbers to withdraw cash from the bank.
A spokeswoman for Prime Minister John Key said the Government's earthquake appeal had raised $15.4 million by yesterday, including $8.2 million from last Saturday's Lotto draw.
"The appeal is likely to support families in need as they go about rebuilding their businesses and lives, and is likely to support trauma and social services and the rebuilding of community infrastructure," she said.
"The appeal will potentially be used for the reconstruction of iconic buildings."