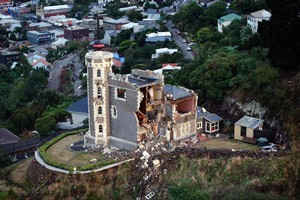 Lyttelton residents are lamenting the loss of 135 years of history as a demolition order hangs over their town's historic Timeball Station.
Myriel Hobbs is mourning the loss of her home.
The 73-year-old spent 14 years growing up in the stone station on the cliffs overlooking Lyttelton Harbour.
To her, knowing it will be demolished feels like losing a piece of her past.
"I actually cried the first time I saw it on TV. I thought 'that's my home'. Fourteen years is a long time.
"My friends used to say I was a princess because I lived in a castle. Well, that castle will be gone soon."
The Timeball Station was built in 1876 and was one of only five working Timeball stations in the world.
Flags at the station were used to communicate shipping advice to the town and its ball slowly dropped to signal the time to ships in the harbour.
It was seen as one of Lyttelton's enduring landmarks, having survived the original 7.1 magnitude earthquake that struck it last September.
But it could not stand up to the Christchurch earthquake and its subsequent aftershocks.
Engineers last week ruled the damage it had sustained in the February 22 quake was too extensive to repair.

Mrs Hobbs was familiar with every inch of the station before images of its crumbling walls were broadcast around New Zealand in the aftermath of the February 22 earthquake.
She was six when her father was sent in to be its caretaker by the town's Harbour Board in 1943.
It was the beginning of what she calls the best 14 years of her life - a time when she met some of her oldest friends and the husband who remained with her until he died last year.
Her memories are of a close-knit town where "everybody knew everybody else".
That town would not be the same without the Timeball Station, she said.
"It's so sad. I've lived in a lot of houses. They don't bother me. But that one's historic."
However, she does have one memento of her childhood home.
She and her brother once accidentally smashed the timeball while playing with the mechanism controlling it.
It had to be rebuilt - but not before she took a piece of rock from the tower wall.
"It's sitting out in the garden now. So at least I have a memento."
The Timeball Station is of 48 properties nationwide cared for by the New Zealand Historic Places Trust.
It is a Category I historic place - the highest possible grading - because of its maritime history.
Historic places trust chief executive Bruce Chapman said the decision to dismantle the internationally significant station was made with "enormous regret".
He said every effort would be made to recover the timeball and the tower it rests on despite what he believed would be a difficult demolition.