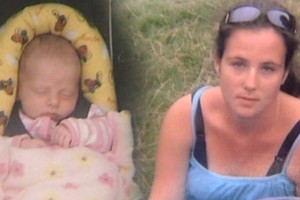 Police have released the names of 13 more people who died in the February 22 Christchurch earthquake, including the partner and five-week-old baby of a man who is lying injured in Dunedin Hospital.
Kelsey Sinitta Moore, 18, and five-week-old Taneysha Gail Prattley were this afternoon confirmed to have died in the quake.
Ms Moore's partner Glen Prattley, 28, was walking down Manchester St with the pair, as well as sister Rochelle and father Stan, to take them to a downtown bus stop on the day of the quake.
He pushed his sister out of the way of falling glass, almost certainly saving the 21-year-old's life, but both siblings were knocked unconscious.
He woke up in hospital with a broken leg - but no sign of Taneysha or Ms Moore.
Last week Mr Prattley was transferred to Dunedin Hospital where he was waiting for news of the pair.
The other 11 victims to be named today are Henry Ross Bush, 75, of Christchurch, Helen Margaret Chambers, 44 of Christchurch, Susan Patricia Chuters, 52 of Christchurch, Graeme Reeve Coppeard, 41 of Christchurch, Estelle Marie Cullen, 32 of Christchurch, Marielle Falardeau, 60, of Canada, Norman Lee, 25 of Christchurch, Adrienne Isobel Lindsay, 54 of Christchurch, Jillian Lesley Murphy, 48 of Christchurch, Desley Ann Thomson, 32 of Christchurch and Siriphan Wongbunngam, 27 of Thailand.
Susan Chuters was working in the CTV building when the quake hit, while Jillian (Jilly) Murphy had been shopping in the Cashel Mall.
She fled the store she was in along with its owner but dashed back inside to grab her cellphone - just as the building collapsed.
Desley Thomson was believed to be on her lunch break in the CBD when the earthquake struck, while Norman Lee was believed to be walking into the CBD from a carparking building.
The death toll from the quake remains at 166.
Christchurch people to get chance to see quake ruins
Heartbroken Christchurch residents will be able to see their earthquake-ravaged city up close on the national memorial day next week.
Standing in front of the ruins of the Canterbury TV building, Mayor Bob Parker said he hoped residents could walk on a pathway through the central business district on March 18.
"There needs to be a time for the people of the city to come close to see these things. To be able to look down the streets and ... see it as a reality that we have to face up to."
The CTV building and other areas of the "red zone" would still be off limits because of concerns about safety, he said.
Mr Parker and Civil Defence controller John Hamilton this afternoon held an emotional press conference at the CTV site, where more than 100 people are believed to have died.
Little remained of the seven-floor building; just rubble and an elevator shaft that would soon be destroyed.
Flowers for the victims lay in a corner.
Mr Parker said most people in Christchurch knew somebody who worked in the building, and the ruins were a reminder of the devastation that hit Christchurch on February 22.
"If any site of this city tells the story of the scale and of the international connections this tragedy which has befallen our city has, it is the site behind me. We look at this site, and I think we all find it very hard to come to terms with the scale of the loss.
"It feels so wrong and so unfair that this city should be hit once in September and be hit yet again in February ... how much more does the city have to go through?"
Christchurch needed to find courage to rebuild a safe, better place, Mr Parker said.
"What we have to build here is a functioning place, a living place."
There would be an appropriate area in the city for a memorial site, and it was up to the community to decide where it would be.
Mr Hamilton told media he found the destruction left by the earthquake ``mind-blowing''.
"I haven't been through the trauma and the hardship that the people of the city have. I parachuted in to take in the role of natural controller and I find it very hard to come to grips with what I see around me."
Police were still working on learning how many people died at the CTV building and on calculating how many people had been rescued.
The death toll remained at 166 today, with police releasing the names of 13 more victims.
They have so far named 57, and said post-mortem examinations on the victims were expected to be completed this week.
Superintendent Sam Hoyle said 122 people were still listed missing but the number changed every hour and many of those would be among the dead at a temporary mortuary at Burnham Army Camp.
Urban Search and Rescue teams continue to work around the central city and expect to complete clearing the Forsyth Barr building within 48 hours.
More cordons in the city are to be lifted for business owners and residents on Thursday, and for the public on Friday.
Business owners needing essential belongings from the most seriously affected "red zone" could register at recovercanterbury.co.nz to enter the zone from Monday.
- NZ Herald staff, NZPA