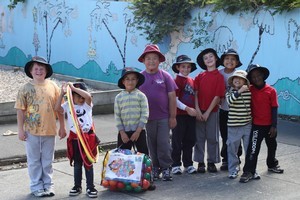 It was a lot more enjoyable during playtime at Christchurch's Wharenui School today than a fortnight ago, when students and teachers were huddled on the grass as the earth shuddered beneath them.
In a conscious effort to ease the 130 or so pupils back into scholastic life for the first time since the Christchurch earthquake struck on February 22, classroom time was reduced as the roll enjoyed an extra period of outside activity today.
Instead of the usual maths and reading instruction after lunch break, headmaster Craig McGregor took charge of a gumboot-throwing competition to mark the school's reopening.
"We're doing sports events to have a lot of fun and help everybody get back into the swing of things," he said as other clusters of kids played soccer or softball and practised their throwing skills.
"We thought it was important to get them outside so they can relax have fun and mix together."
Mr McGregor said it was too early to judge whether the students - aged five to 13 years-old - were still suffering psychologically from the events of February 22, especially those whose homes were damaged.
Teachers would also be monitored to assess how they were coping with the after-effects of the 6.3 magnitude quake, with an expected death toll of around 200 people.
"I imagine the stresses might not start showing for a week or so," Mr McGregor said.
Inevitably some of his students missed roll call today - about 15 had already transferred to schools elsewhere in New Zealand as families started afresh.
"Quite a few have gone and not come back again, we wouldn't expect some others to be back for a few weeks."
Mr McGregor was confident he and the teaching staff had the resources to cope if children were starting to show the strain of living in their fractured city.
"There's a (Ministry of Education) website and telephone number I can go straight to if I have issues like that," he said.
Counsellors were also available for students and staff.
The school, built in 1907, was not damaged by the quake but there was lingering reminder of the devastation caused to the city's infrastructure.
With the water supply yet to be cleared each pupil was asked to bring a quantity of boiled water to school while an extra 10 litres per day will be available in classrooms.
- NZPA