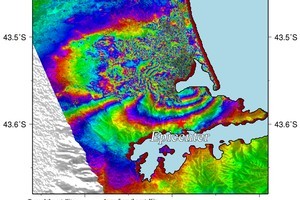 The shaking and devastation caused by the Christchurch earthquake have been measured in new radar imagery taken from space.
Data from the Japanese Alos spacecraft reveals how the land under the city was deformed and impacted by liquefaction in the February 22 quake.
Its measurements were done by combining radar images of the city before and after the earthquake struck.
Coloured bands are used to represent movement towards or away from the spacecraft.
They show "crustal deformation" measuring more than 40cm in some places concentrated on Christchurch and the surrounding area.
The earthquake's epicentre near Lyttelton Harbour is clearly shown, with waves of rippling earth around it.
An area of "low coherence" in the images of Christchurch's eastern suburbs is blamed on high levels of liquefaction.
Those suburbs sustained huge damage in the February 22 quake, which has killed at least 166 people and left 10,000 homes in danger of demolition.
- NZ Herald staff