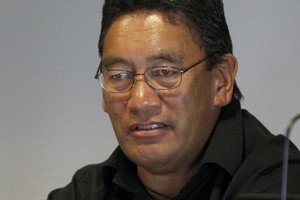 Independent MP Hone Harawira says he will have a broom closet for an office and sit in Siberia in Parliament, but it's worth it to be free.
He has also outlined an agenda which could be the platform for a new political party.
Mr Harawira last month quit the Maori Party before its national council ruled on a disciplinary committee recommendation to expel him. He fell out with his party when his caucus colleague Te Ururoa Flavell made a complaint over the Mr Harawira's outspoken criticism of the party's relationship with the Government and accusations it was supporting anti-Maori policies.
The House today sits for the first time since he left the party, but Mr Harawira did not confirm if he would be in Wellington for it.
"Being independent means I get booted out of my flash office and consigned to a broom closet in Siberia, and shifted out of my current seat in the house up to somewhere in the back where there's no oxygen and the cameras can't pick you up," Mr Harawira said in a newspaper column today.
"On a positive note though, being independent means I am no longer constrained by a party that got a bit lost at the first sniff of power, I'm no longer shackled to dull, boring policies written by bureaucrats to please the Nats rather than promote the hopes and aspirations of our people, and I no longer have to accept crumbs and the continued theft of the foreshore and seabed as the price of coalition.
"And more importantly, being independent means that I am free."
He would speak out against policies that benefited the rich and left the poor struggling and would argue for progress for Maori and highlight inequality.
"...spending real money on getting rid of the Maori underclass, makes good economic and political sense for everyone".
The MP said he had strong support among his people but his anti-GST rise position and opposition to privatisation and overseas sales of land had won him support from many Pakeha.
"So clearly the support is there for me to be more than just an Independent MP for Tai Tokerau. The question is `where to from here?' Answer - watch this space..."
Mr Harawira has previously said he would stand as an independent in his Te Tai Tokerau electorate in the general election on November 26, and the Maori Party would not put up a candidate against him.
He said he was going to "build a movement" but wouldn't challenge any Maori Party MPs in the election.
Recently he said a lot of people had lobbied him to form a new political party and he would go out on the road to gauge public views.
- NZPA