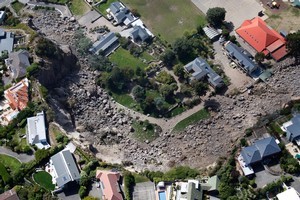 8.33pm
That concludes our latest updates for this evening. We'll be back tomorrow with more coverage from Canterbury
7.25pm
The first power generator airlifted from Australia kicked into gear in Christchurch today as energy provider Orion closes in on restoring power to the earthquake-ravaged city.
The 7-1/2-tonne apparatus, which can power up to 200 properties, was freighted from Townsville to Christchurch by the New Zealand air force on Sunday.
It had to be dismantled to squeeze into the C130 Hercules and then reassembled before being transported to a location in Sumner, one of the suburbs worst affected by the February 22 disaster.
More generators from Gough Power Services are also scheduled to be brought across the Tasman.
A spokesman for Orion said about 3300 consumers in Christchurch's struggling eastern suburbs were still without power but it was hoped that number would be halved by late tomorrow.
Most Christchurch residents have had power restored to their properties, with only 8900 households still without electricity
Ninety-eight percent of Christchurch has power but that excludes those in the central business district.
7.05pm
The Canterbury District Health Board is conducting a phone survey of quake-weary Christchurch residents in an effort to find out which health services and support they need.
Canterbury Medical Officer of Health Dr Alistair Humphrey said many Christchurch residents were still living without basic services such as sewerage, power and clean drinking water.
"People without these essential services are at the greatest risk of illness at the moment. We need to get a better picture of the health risks they face,'' Dr Humphrey said.
"I know telephone surveys can be an irritant but I would urge any Christchurch residents who are contacted to take part. The important information they provide will help us plan for what additional health services and support is needed in their areas over the coming weeks."
The survey would take less than 10 minutes to complete, and would involved 500 randomly chosen people.
6.10pm
Nationally funded arts organisations are joining the bid to raise money for victims of the February 22 Christchurch earthquake.
The New Zealand Symphony Orchestra (NZSO), the Royal New Zealand Ballet (RNZB) and Te Matatini are all organising free fund-raising events, Ministry for Culture and Heritage chief executive Lewis Holden said.
The NZSO will be collecting for the Red Cross earthquake appeal at its "Symphonic Odyssey" concert on March 12 in Auckland and then throughout its "Apotheosis" tour around New Zealand.
The RNZB will end its South Island leg of "Tutus on Tour" by dressing up in costume and meeting people out in the Christchurch community.
It will also give a free performance of Tutus on Tour in Christchurch as soon as possible.
And the best of the Te Matatini of Te Ra kapa haka finals in Gisborne will perform in Rotorua, with all ticket sale proceeds going to the appeal.
5.49pm
Christchurch court buildings remain closed following the city's devastating earthquake, forcing the Ministry of Justice to hold essential services in makeshift court rooms.
The arrest court and remand hearings are being run out of a temporary facility at Christchurch Men's Prison, while other urgent criminal and civil matters are operating out of Rangiora District Court.
The High Court at Christchurch is operating but with all matters filed in the Wellington High Court Registry.
"Like everyone, we face new challenges almost every day but are working very closely with local judiciary, lawyers, and our Corrections (Department) and police partners to come up with practical short-term solutions, and also to consider the long-term effects and how we will manage them," ministry deputy courts secretary Andrew Hampton said.
The ministry is also leasing a property in suburban Sockburn to help maintain the essential services, and to provide a longer-term base for the local response team, he said.
5.46pm
Police have named 13 more victims of the Christchurch earthquake.
4.15pm
Most Christchurch residents have had power restored to their properties, with only 8900 households still without electricity.
Ninety-eight percent of Christchurch had power, but that excluded those in the central business district, lines company Orion said today.
The total number of residents without power may start to fluctuate on a daily basis, and people should be prepared for further power cuts, Orion chief executive Roger Sutton said.
Power had been restored to 50 percent of the wider CBD but it would be a slow and difficult process restoring the rest of it.
Meanwhile, the 11kV cable out of the New Brighton substation which failed on Sunday night has been fixed.
4.10pm
Some of Christchurch's main tourist attractions are reopening.
However, there would be no quick fixes to the effect the quake would have on Christchurch's tourism industry, Christchurch and Canterbury Tourism chief executive Tim Hunter said.
"It's going to take time and money to re-establish Christchurch as a top tourism destination.''
Many tourism operators were having to rely on government grants to get them through the next few weeks, he said.
Some tourism attractions operating again include the Air Force Museum, Willowbank Wildlife Reserve, and the Tranz-Alpine train service.
The National Crisis Management Centre has removed its non-essential travel restrictions for Christchurch and the Christchurch International Airport is fully operational.
3.45pm
All Black great David Kirk is doing his bit for the Christchurch Earthquake Appeal by taking part in a fundraising event in Sydney on Thursday.
The fundraiser includes an auction, raffle and door prizes, with all proceeds going to the appeal.
It will be held at North Bondi RSL, starting 5.30pm.
3.32pm
The Palms Shopping Centre will be closed for up to six weeks to repair damage caused by the earthquake.
The shopping centre, in the northwest suburb of Shirley, will then reopen in staggered phases as repairs are effected.
There is no public access to any of the centre's facilities.
11.30am
The navy has left Canterbury, Newstalk ZB reports, but it is assessing the situation.
The HMNZS Canterbury had been in Lyttelton Harbour since the quake two weeks ago. The ship left for Wellington yesterday, but New Zealand Defence Force Commander Colonel Roger McElwain says the vessel could return south, if needed.
11.02am
Martin Johnson's England side are scheduled to stay at the Crowne Plaza Hotel in Christchurch for the duration of their Rugby World Cup stay in New Zealand, but the property is at the heart of the city's Central Business District devastated by the quake.
It's understood structural engineers began assessing the scale of the hotel's damage yesterday.
10.40am
A pair of "Kiwis in Sweden" suggest all expats spare a couple of minutes to create a short video and share it with the people of Christchurch. The common thread is the message 'Kia Kaha Christchurch'. Their own effort is here.
10.30am
An American who was in Christchurch to give an address at a US-NZ Sustainability Forum tells his tale of February 22 to his local newspaper back in New Hampshire in the US.
9.05am
Rock guitarist Carlos Santana has cancelled his Christchurch show because of last month's violent earthquake but will instead make a donation to the relief fund.
Santana was to play the CBS Canterbury Arena on March 22.
Christchurch customers will be refunded.
Santana's performance at Auckland's Vector Arena on March 20 will go ahead as planned.
- NZHERALD STAFF, NZPA, NEWSTALK ZB, AGENCIES
© Copyright 2017, NZME. Publishing Limited
Assembled by: (static) on production apcf04 at 27 May 2017 14:44:57 Processing Time: 608ms