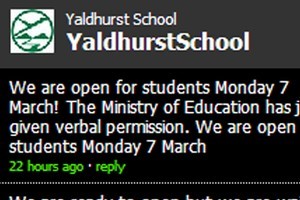 Pupils and teachers at Yaldhurst Model School returned to class today for the first time since the February 22 earthquake, with one six-year-old comparing the quake to a caterpillar "because it had lumps".
The school was one of five in the Christchurch area listed as open on the Ministry of Education website.
Duvauchelle School, Governors Bay School, Le Bons Bay School and Little River School also opened today, and Education Minister Anne Tolley said 31 schools had indicated they would be open in the next few days.
Yaldhurst Model School Principal Allan Robertson said 96 pupils were at the school - for years one to eight - on the day of the earthquake.
"It really was a rolling one. We had some staff in the staffroom, after a few seconds we realised it was the real McCoy. It was lunchtime. The kids all knew what to do.
"We've had drills, it all went like clockwork for us."
Six-year-old pupil Toby was on the school field when it hit.
"It was like a caterpillar because it had lumps. I felt myself going that way and that way - it was weird," he told nzherald.co.nz.
Teacher Margaret Shead was in the staff room when the earthquake struck.
"We thought it was just another rumble... it was a large rumble."
Ms Shead joined students on the field.
"I realised I didn't have enough arms to hug all the students," she said.
Ms Shead's class had a party to celebrate being back at school and there was an earthquake drill this morning but she said in general staff were trying to make life as normal as possible for the children.
Mr Robertson said as far as he knew, his pupils did not know any of those lost in the quake.
"Our teachers literally called all the parents, we are not aware of anyone directly affected," he said.
Mr Robertson said the school had information on counselling from the District Health Board website and would bring in counsellors if necessary.
"I don't think we've had anyone request those services - unlike September 4 when there were several," he said.
"After that first one, we had some kids who couldn't sleep at night, we know who they were but they were fine [after the February 22 quake]."
Mr Robertson said one family with children at the school had gone on holiday in Rarotonga and a couple of others had also gone away temporarily.
"I only know of one that is not coming back."
Mr Robertson said damage at the school had been "absolutely minimal" and eight displaced students from other areas had temporarily joined the school roll.
Mr Robertson said the school had room for more displaced students and had received at least eight more inquiries.
"We are happy to take students from somewhere else," he said.
"All the schools have been impacted - we are no different."