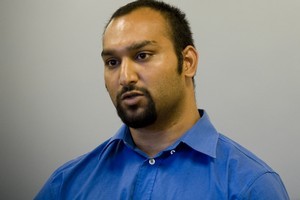 A man denied that he shot a police officer, but refused to name the gunman for fear of his own safety, the High Court in Auckland was told today.
Neshanderan Rajgopaul, 29, is on trial for attempting to murder Constable Jeremy Snow in Papatoetoe in December 2009.
Mr Snow was shot four times when he and his partner stopped to check a car in a driveway of a house they believed was being broken into.
He was rescued by armed police as he came close to dying from blood loss.
The court was told today that in an interview with Detective Constable Amajeet Kumar, Rajgopaul denied shooting Mr Snow, but refused to name who did.
"I don't want to mention the person's name because of my safety and the safety of my family, because I know what they're capable of," Rajgopaul said.
As well as the attempted murder charge, Rajgopaul faces one of threatening to kill, one of firing a weapon with intent to cause grievous bodily harm, four of unlawfully possessing a firearm, and one each of possessing a class A drug for supply and receiving stolen property.
He also faces two charges of assault using a firearm as a weapon relating to incidents between November and December 2009. He has pleaded not guilty to all 11 charges before the jury of six men and six women.
Crown prosecutor Kieran Raftery was unwell and was unable to return to the trial, the jury was told this morning.
The trial is into its fourth week.
Rajgopaul is expected to given evidence in his own defence tomorrow.
- NZPA