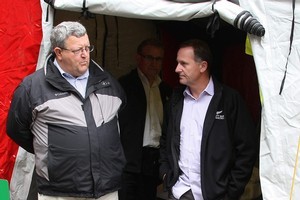 Gerry Brownlee says he has no desire to "bring out the bulldozers and take Christchurch to the ground", but that if he had his way some severely damaged buildings would be "down tomorrow".
At a media briefing on Saturday, the Earthquake Recovery Minister said if he had his way, most of Christchurch's heritage buildings would be bowled the next day - prompting concerns that demolitions would be rushed through.
On Radio New Zealand this morning, Mr Brownlee said Christchurch had 1600 buildings rated somewhere between category 1 and category 4 heritage buildings.
He said a number of those buildings should "realistically" have been demolished after the September 4 quake but that he believed heritage orders preventing their destruction had been "far too precious".
"I think that was partly because there was no loss of life after the September 4 earthquake," he said.
"There were many heritage category buildings in Christchurch that were severely damaged and if I had my way they'd be down tomorrow.
"There is a need to move fairly quickly."
Demolitions should be carried out quickly on heritage buildings if that was the advice of a structural engineer, he said.
Body recovery and safety had to be prioritised over an "academic scrap" about the quality of Christchurch buildings.
But Canterbury Earthquake Heritage Building Trust Board Chair Anna Crighton said no heritage demolitions should be carried out in haste.
She called for structural engineers to work together with conservation architects and architectural historians to decide whether damaged buildings should be strengthened or destroyed.
"A structural engineer might not necessarily know about the history of the building.
"The biggest enemy of heritage and the retention of heritage is panic and haste."
Owners also needed to be taken into consideration, as some were "desperate" to carry out reconstruction work on their heritage listed buildings, she said.
"For someone to come along with a bulldozer and just take it down - that's not acceptable.
"Sometimes shoring up and making safer buildings in quicker than demolition."
Her 1892 heritage home was one of the buildings in line for demolition that could be saved, she said.
Mr Brownlee said he understood conservation architecture and had been part of a trust that had saved Riccarton House.
But he said that the Emergency Management Act allowed the demolition of buildings to enable the possible rescue of people inside and where they posed a threat to public safety.
He said if an unsafe heritage building was preventing Christchurch returning to normal, the act might be used.
"There are deconstructions, essentially demolitions, going on in the city today because it's understood there are people under them, he said.
"Given the scale of this event I worry a great deal about public health and safety."
Mr Brownlee said he believed the focus that was being placed on heritage buildings when thousands of people's lives had been disrupted by the earthquake was "undue and unacceptable".
The debate around their preservation was "premature" he said.
For many buildings that had previously had protection orders on them, that protection was somewhat irrelevant, Mr Brownlee said, because the prospect of either getting them up to a code where they would be safe to re-enter was "simply not realistic".
New Zealand Historic Places Trust chief executive Bruce Chapman last week said much of Christchurch's heritage could be saved.
Restoring the city's history had a role to play in its recovery from the February 22 earthquake, he said.
"In my view most of the most iconic buildings in Christchurch will survive.
"We think it's important these buildings are in fact repaired. In future they'll be important symbols.
He supported strengthening surviving heritage buildings so they could resist future earthquakes.
But he acknowledged there would be some iconic buildings that would have to come down.
"There is a lot of significant heritage - particularly churches - that may not be able to be saved."
"And that's going to be a tragedy."
Christchurch Mayor Bob Parker earlier told Radio New Zealand the central business district had to be reinstated quickly but "I wouldn't agree that all of those buildings would need to go tomorrow."
Labour leader Phil Goff told the broadcaster that decisions needed to be made thoughtfully.
"We don't want to make politics out of this but I think Gerry acted prematurely, he overstated the case, he sounded like he was making arbitrary decisions, they were going to knock the whole lot over, they weren't going to talk to people there were no other considerations. That would be absolutely wrong."
Prime Minister John Key said he thought Mr Brownlee's comments were taken out of context and that the minister did care about heritage but the reality was many buildings will have to be demolished.
- NZPA and NZHERALD STAFF