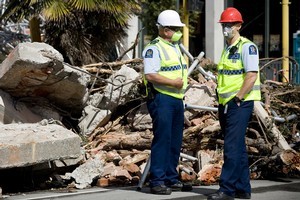 The national state of emergency imposed after last month's devastating earthquake will be extended today and is likely to be in place for some time, Prime Minister John Key says.
The status has to be reaffirmed every seven days and Mr Key said this morning that given the extent of the devastation it was still needed.
"I think they will be there for quite some time actually," he told TV1's Breakfast.
Cordons
His comments come as people yesterday returned to the stricken central business district for the first time, nearly two weeks after the deadly magnitude 6.3 quake.
But their return was not without difficulty and anger, leading Civil defence director of planning Baden Ewart to say things would improve.
Police lifted the cordon in areas of the CBD at 8am yesterday, allowing residents and business owners to retrieve cars and valuables left behind before the quake.
The public was allowed access from 2pm.
The empty streets were suddenly clogged with traffic as residents rushed to check the damage to their buildings during the 6.3 magnitude quake that struck on February 22.
Mr Ewart acknowledged some residents and business owners were frustrated, at delays in getting into the areas, and asked people to be patient.
"We are looking at improving our game. There is a balance between safety and security on the one hand and enabling access on the other, and I think today it's fair to say we didn't get that balance right, but we have learnt from that.
"We'll do a better job next time."
He said people who did not have the proper credentials were turned away, and others were also trying to get in to the restricted areas in the CBD.
Click here for a map of the cordon zones in the CBD.
Death toll
The death toll was 166 last night, but is still expected to rise to about 200. Fifteen more people were named yesterday. Click here for the full list of names officially released by police so far.
Urban Search and Rescue (USAR) spokesman Paul Baxter told a media briefing crews were now focused on the Forsyth Barr building. Education Minister Anne Tolley was able to provide good news to the regions teachers and pupils.
She said 31 schools indicated they would be open for students from today or over the next few days.
A further 55 schools were structurally sound and could open for staff immediately, with opening dates for students expected soon.
Click here for a list detailing the status of schools.
Yesterday Treasury announced the cost of the quake to the country will reach up to $15 billion and will knock gross domestic product growth back by 1.5 percentage points.
However, there was a silver lining to the dire financial news, with the prediction of good news to the region when rebuilding was under way.
"From 2012, the recovery will bring a sizeable boost to residential, commercial and infrastructure investment, placing upward pressure on prices depending on the rate of rebuilding," Treasury said.
Officials have estimated one-sixth of Christchurch's 390,000 population - some 65,000 people - have fled, terrified by incessant aftershocks or because their workplace had been damaged or destroyed.
Mayor Bob Parker has warned it could be months before parts of the city reopened, and though the government had underwritten all employees' wages for six weeks in a bid to protect jobs, prospects for the CBD's 52,000 workers were uncertain.
"I know already that populations in other towns in the South Island have risen exponentially as people from here who have the ability to or have a holiday home or have a contact relocate," Mr Parker said.
Community meetings
A series of community meetings continues today with the first at McCormacks Bay Reserve at 12.30pm.It will be followed by a 3pm meeting at the Sumner School grounds, and a 5.30pm meeting at Lyttelton Rugby Park, off Godley Quay.
There are four more scheduled for Wednesday. They are at 9.30am at Richmond Park, midday at Parklands Reserve, 2pm at Rawhiti Domain and 4pm at South New Brighton Park. Click here for the full list from Civil Defence
- NZHERALD STAFF, NZPA, NEWSTALKZB and AGENCIES