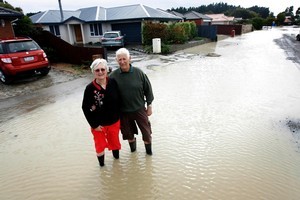 Residents in Rue De La Mare were just starting to get on top of things after the Christchurch quake, and then the rain came.
The quiet Parklands street in eastern Christchurch was submerged in silt and water after the earthquake 13 days ago and as the rain poured down over the city yesterday, the floodwaters returned.
Water washed up over kerbs in Avondale as council workers and emergency services battled to keep it away from already-damaged homes.
Roads were closed and residents shovelled furiously, trying to clear drains in a bid to get the water off the street and out of their living rooms.
On many streets, hoses were being used to suck the water up off the road into waiting tankers.
A steady stream of traffic in some areas did not help, with cars going too fast for the conditions, pushing water towards houses in waves and angering residents.
Rue De La Mare residents Jan and Marty Westerink said the rain was just another blow for them a day after their power and phone lines had been restored.
"There was just a little bit of water left from last week, they'd redone the whole road," Mrs Westerink said.
"They'd ripped all the tarseal up, it's just a shingle road now. And then it rained ... the drainage, it's just not there."
After the quake cars fell into sink holes created by liquefaction and children were photographed canoeing up and down it.
Mr Westerink said it was frustrating trying to get in and out of a flooded street, but there was little they could do.
Their house had been assessed as safe to live in so they had no reason to move on.
"It is frustrating but we just have to live with it," he said.
"This is our situation, we live with it and we cope," Mrs Westerink said.
Another neighbour was visibly upset and on the verge of tears when she spoke of her street.
"We don't know what's happening. They were out digging Monday, Tuesday, Wednesday, Thursday, Friday. They had diggers, steamrollers, bulldozers ... filling in holes.
"And then it rained again and it started all over again. It was dry until then," she said.
Police warned yesterday that the streets were still very dangerous.
Superintendent Sam Hoyle there were huge cracks, uneven surfaces and rocks and silt all over some roads.
"These conditions make driving very hazardous. In many places the traffic lights are still out and we are very concerned that many people are just not taking these extreme hazards into account.
"There is nothing normal about driving in Christchurch at the moment and everyone should remember that."
"We have had three crashes this afternoon and this ties up emergency services and creates traffic jams to say nothing of the trauma to already traumatised people."
- additional reporting: NZPA