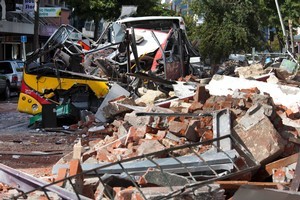 Stuart and Lucy Routledge couldn't live without each other and were still madly in love despite being married for more than 50 years.
The couple, both 74, were riding the No 3 bus together the day the 6.3 magnitude quake struck. Mr Routledge was killed instantly and his wife died later in hospital "of a broken heart".
Yesterday, the couple's names were included in the latest police list of 15 people who died as a result of the quake - taking the number of identified victims to 41.
Friend Verna Redmond described the couple as beautiful and said one could not have survived without the other.
"They were always together, totally inseparable. They never even fought. Such a beautiful couple who were taken before they were ready."
The sweethearts frequently caught the No 3 bus from their Sumner home into the centre of Christchurch for the day.
They always sat next to each other.
When the quake struck, they were on their way to a lunch date, Ms Redmond said.
Mr Routledge was crushed by falling bricks and debris, but Mrs Routledge was pulled out of the rubble and taken to hospital. "She wouldn't have been able to survive without him. She died of a broken heart, I think. They couldn't live without each other," Ms Redmond said.
The family friend said it was probably for the best that they died at the same time.
The couple were high school sweethearts in Britain and married young. They moved to New Zealand not long after, but never had any children.
Mrs Routledge had just beaten cancer, which she battled for a number of years, with Mr Routledge at her side.
The pair were very active in the Sumner community, loved being outdoors and did the gardening at the local RSA together.
Mr Routledge loved botany and worked around plants his whole life, whereas Mrs Routledge was a people person and dedicated her life to helping others.
She worked as a nurse with Ms Redmond's mother, Jeannie. The women grew close and remained firm friends, even in old age. "My mother's very shaken by it. They were very good friends ... Lucy was meant to be coming around to see her last week, but my mother kept putting it off because she was shaken by the first [September 4] earthquake. Now she feels very guilty that she'll never see her again."
Jayden Andrews-Howland was also killed on the No 3 bus as he travelled into the central city to pick out a present for his 15th birthday the next day.
On Saturday, he was farewelled at a funeral, where his grandfather Archie Andrews said the teenager dreamed of being a bus driver.