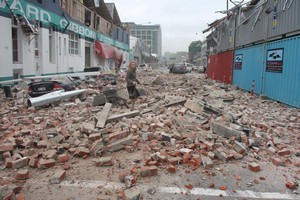 Paul Proudfoot is giving temporary accommodation in his Riccarton offices to 26 employees from companies which had their offices destroyed during the earthquake two weeks ago.
The new additions started last Monday at Manux Solutions, an IT company that provides data storage.
Since then it's been "a lot noisier", Proudfoot said.
"Being an IT company, we only had two women. But now we've got all these ladies. The noise factor has increased quite a bit. It's pretty cool, they've been bringing in home baking.
"The office looks like a refugee camp. We don't have any meeting rooms. The shower has been going non-stop, 12 hours a day. We have hired tables from a party hire company."
The 26 people come from recruitment companies and hotels and some were Manux clients.
Proudfoot said one recruitment agent had moved to Gore after the earthquake and was conducting interviews for candidates in Christchurch at Manux's office by Skype.
The Manux office on Leslie Hills Drive, in Riccarton, was hardly damaged, and it did not lose water and power. The building was an old factory that was converted into an office. Proudfoot said no client data was lost because the business backed up to two servers, one in Christchurch and one in Auckland.
"Most people are looking for space. But there isn't much. They [businesses] have lost a lot of kit but they can replace that. We haven't lost any hardware [for clients], any intellectual property. Companies won't recover if they have lost IP," he said.
Proudfoot said he had been impressed with the professionalism of his team and also of the people showing up to work in someone else's office.
Manux was operational the Wednesday after the earthquake and had been working "some pretty big hours" to get its systems running for its clients.