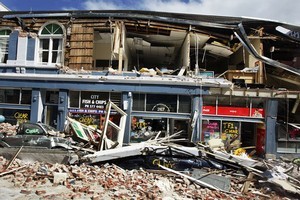 Rattled Christchurch residents flocked into the inner-city to see up-close the damage left by last week's massive earthquake.
The empty streets of the inner-city, closed after the February 22 magnitude 6.3 earthquake, this afternoon were filled with cyclists, dog-walkers and strollers - all trying to get a glance of their "broken city".
Police at 2pm lifted the cordon in areas of the CBD, allowing the public to retrieve any cars left behind before the quake.
Rubber-neckers flooded the area, with many posing for pictures in front of the ruins.
Heartbroken residents toured the inner-city to check-on buildings - the destruction made resident Peter Cox cry.
He was taking pictures for his two children overseas while picking-up his car from the CBD.
"It's only a week or two ago that we were in here and in a very different environment. It's just horrible."
Resident Gayl Johnstone, whose Mount Pleasant home was smashed in the quake, also shed tears.
"It's our broken city," she told NZPA. "We had a cry in Hagley Park together, my husband and I. We had a good cry over our city and our house, but we are alive. We are lucky."
Brian Pelham and wife Maxine said they were sad many Christchurch heritage buildings were destroyed.
"I work in these buildings. Come in and out of the buildings all the time, so it's really sad to see them gone. The old provincial chambers in my opinion is the best building in Christchurch, and it's totally gone," Mr Pelham said.
With three friends, Charlotte Brown also made her way into the CBD to have a look. She stood in front of the reduced cordon, peering through the metal fence at the broken buildings.
"It's pretty shocking at first, but we have faith the city will get rebuilt."
Former Christ's College pupil Tim Kerr visited the city with son Jeremy, and said it was "pretty emotional" to see his school damaged.
"I've had friends coming in to the city, saying it's a lot worse than what we are seeing on the TV, and I just wanted to get a sense of it myself."
Meanwhile, Civil Defence director of planning Baden Ewart reiterated this afternoon that people who do not live or work in the CBD to stay away.
Police are also concerned over careless driving as people start getting out and about again in the city.
Superintendent Sam Hoyle said there had been three crashes this afternoon.
The streets are still dangerous with huge cracks, uneven surfaces and silt all over some roads.
"We are very concerned that many people are just not taking these extreme hazards in to account.
"We need everyone to play their part," he said.
- NZPA