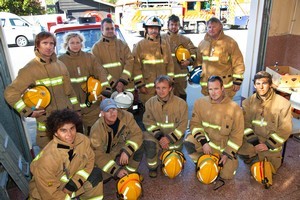 They joke about the pay rate and it's nice to see a flicker of laughter in their tired eyes. But no one is paid at the Sumner Volunteer Fire Brigade. In fact, some have taken holidays from their jobs to help their community during one of our greatest disasters.
Like most of New Zealand, these are the people who answer when their communities call. Since Black Tuesday, the calls haven't stopped coming.
These men and women have day jobs that pay the bills, homes affected by the earthquake - and a community that needs them. Many in Christchurch's quake-hit suburbs find just one of these is enough to fill a day.
Our volunteers, the backbone of this nation's fire service, try to do all three.
They are getting tired. And when they do, they joke about the pay rate.
Now, some reckon, they're on double time.
Everyone who was here in Christchurch at 12.51pm on February 22 remembers where they were.
Station officer Darren Wright was the board of trustees. He was overseeing the final touches to the new school hall.
Firefighter Craig Henderson was having lunch at the new domestic terminal at the airport where he was working as an electrician. Deputy fire chief Daryl Sayer was driving, on a lunch break from his and wife Catherine's pharmacy in Redcliff.
But no one could claim to know where their families were. Not one of them really knew - not then and not for hours after - whether those they loved best were alive or dead.
And yet they responded.
Their community called and they came. Wright ran out of the school hall and watched the cliff come down, covering a building site next to the local RSA.
He saw the children from the school running on to the school field and assumed - hoped - his two daughters were okay.
His wife Rachel Murrell and 4-year-old son were at home yet Wright knew where he needed to be.
"I started running to the station which vanished in a cloud of dust. It was a very conscious decision. You don't want to but when I saw that cliff come down I knew I had to go. That's what you sign up for." He smiles, "That's why we get the high pay."
Geoff Curle, firefighter and plumber, had also seen the cliff face fall. "There was a red cloud of dust over Sumner," he says. He arrived moments after Wright.
They went into the rubble, found one dead and two injured. Wright set up a triage station.
Someone came up and asked what they could do to help. "Go and check if my wife is all right," he said.
Sumner called and they came.
One firefighter, Angela Gilmour, answered the call of the brigade from Birmingham in England, where she was selling for one of New Zealand's top fashion labels. "I feel so guilty I wasn't here," she says.
A mum-of-two, Gilmour woke to find 23 text messages on her phone. She opened the most recent - her daughter Isobel, 18, saying "we're okay, we're camping in the garden".
The reverse order of messages was a blessing - earlier texts had spoken of being scared, and overcoming that to head through damaged areas into town to find her brother Blake, 6.
Gilmour was struggling to understand what was happening as she descended to the hotel reception to see a television news channel broadcasting images from YouTube of her mother, Pam Brown, emerging from the dust cloud outside the RSA.
Gilmour wanted-needed-to be back in Sumner instantly. Sayer arrived at the RSA about 2pm, having worked his way back to Sumner through back roads. The regular route into the community was blocked by a ruined bridge. He checked on staff at his pharmacy as he passed, saw his wife Catherine wasn't at home and headed for the station.
His arrival allowed Wright a few precious minutes to check on his own family.
All afternoon they worked through tasks, helping where they could. Sayer remembers a young woman trapped in a collapsed house. A doctor slid into the tiny cavity next to her as two builders worked to get her free. There was nothing for the brigade to do, so they moved on.
"Call us if you need help," he recalls saying as they left.
They couldn't do everything, but they did what they could.
And as the day went, they could do more. Sumner's brigade came together, growing in numbers and strength through the day.
Craig Henderson arrived on a bicycle, which he'd borrowed after cadging a ride part of the way.
Peter Kerr, whose brother Alan is chief fire officer, was released from his job as a foreman at the Port of Lyttelton's container terminal to find his way to Sumner.
The Kerrs have been the mainstay of the local brigade for generations: "It's not like a normal fire call-out. Normally you go and do something and it's quite specific. With this, you don't know what you're going into."
And that was never more true than when Sumner sent a crew to help in the central city.
Three crews rotated during the night helping at the Canterbury Television building, where more than 100 people are believed to have died.
For those there, "nothing will ever be the same", says one crew member. Jarrod Gilbert, author and prison reform worker, says: "In so many ways it was a tribute to human spirit. We pulled out three guys after we arrived ... dead, unfortunately.
"That was hard because you want to save people. Eight guys just down from us were pulled out alive and that made me feel a lot better."
Each shift was different. Sayer's crew had to back up rescuers, in case they needed rescuing. "We felt helpless we couldn't do anything other than stand back unless we had to go in. I'm glad in the end I wasn't on the pile of rubble. But if I had to, I would have been."
Curle said it was too much to take in while there. Now, seeing the images on television is just unreal. "On TV, it could be Cambodia. It always has been before - somewhere else in the world."
The police and professional Urban Search and Rescue staff he spoke to made it a little easier. "I was able to ask them questions, why this looked like that or why this person looked that way.
That helped me get over it. I didn't leave the scene with any questions."
The professionals took time to urge the volunteers to talk and share their experiences. They did - but no one really slept that night.
"A demolished house means nothing to me any more. When you're dealing with body retrieval on that scale, a house is just material stuff," says Curle.
No one has slept properly for many nights. Families and homeless have bunked down at the station. People are sharing houses. One Sumner resident hosted the Herald on Sunday, cooking on a gas stove and lending a sofa for a sleeping bag.
Curle estimates he slept between two and four hours a night for the first four days. Since then, he's managed six hours a night. He still has two other families staying at his house.
"You just start to get to sleep and you get a bit of a tremor," says Kerr. "Sleep is not good."
Some have yet to deal with their own homes. Kerr still hasn't got power, like many in Sumner. His house "looked like someone had just thrown everything on the floor".
Henderson got out of town to rest.
It felt good to have a hot shower and to shave but "it was strange". "Life went on. And you miss the guys here."
The questions were also difficult - when he went to buy water people made the connection with Christchurch.
"They want to know if you had been there, what you had seen. To be honest, it's not something you want to talk about to people outside the brigade.
"And once you're finished here you have to go sort out your own house, find out where you are at work. They have been really good letting me have the time off work. It's a big ask for them to let me do what I need to do here."
The fire crews praise the support they have had fromvolunteer fire crews outside Christchurch - Methven, Hokitika, Peel Forest - who have taken leave from their own jobs and their communities to answer emergency calls after dark, giving the locals a break.
During the day, they get out and pull down teetering chimneys and unsafe walls. They go door-to-door, asking people how they are and if they need help.
"It's not something you usually get asked yourself," says Kerr. And when you do, he says: "Hey, I'm all right. But don't forget about me."
Gilmour finally arrived on Monday, fresh in from London via Queenstown, where she saw her children. Her mother asked her not to return but she did, calling her boss, designer Annah Stretton, to find out how much holiday she had before needing to return to work.
"I said: 'Annah, I've got to check my house out, work for the fire brigade'. The brigade is my family. You don't abandon your family. I've got 20 days' leave to decide what, where, how."
Gilmour has lost everything inside her home. She saw the damage, then turned and left. "There's broken everything, everywhere. Where do you begin?"
Isobel refuses to live in Christchurch again."We [the family] have been lucky twice now. Do we wait for third time lucky? Do I bring my son back here? Do I do it? It's really tearing."
Soon, the pressure to pay the bills and work will overwhelm the need to help Sumner. There are uncertainties.
Wright asks: "Am I bankrupt now? I've got a subdivision on the hill. What if people don't come back?"
Curle is starting to get calls to work.
His plumber's truck is parked over the road from the fire station. When the water comes back on, he'll be even busier.
The scale of the damage is incredible, he says, with much of it hidden beneath the ground. "It's like make-up on a woman. It's hiding everything."
The call outs have eased from the frenetic pitch they had attained.
As power returns, the calls for help will surge again. The first effort to return electricity to Sumner caused the substation to catch fire.
And that is only one task. There are so many others ahead, so much work to do. For New Zealand, this earthquake will define the decade.
But that is just a decade. Men and women like those in the Sumner Volunteer Fire Brigade are defining our nation.
Curle: "It's hard to stand down. You live in a suburb where a lot of people know you and the respect the public gives us is immense. They wave to us and they're happy to see us. You're getting paid by doing that. It's a hard thing to stand down from.
"It's an honour to serve the people of Sumner, the place I live."