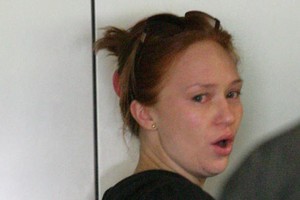 A pale and exhausted Kara Hurring last night spoke of her isolation as she faces up to her fugitive past.
The woman wanted in connection with the Westpac missing millions spent almost two years on the run across Hong Kong, Macau and China.
But the Herald on Sunday can reveal she is now living in a basic Auckland apartment building while awaiting her next court appearance.
The quietly-spoken Hurring appeared withdrawn and looked a different person to the smiling mother whose images were beamed around the world after she fled New Zealand in May 2009.
Hurring told the Herald on Sunday she was feeling frightened and alone - and had been told by police not to talk about why she had returned.
"I can't talk to you about anything. How did you find out where I was? I can't comment. The police have told me not to say anything."
She refused to say where her daughter Leena was, and threatened to call police to take out a trespass notice.
Hurring, 31, fled New Zealand after a $10 million overdraft facility was mistakenly loaded into her partner Leo Gao's Westpac Bank business account.
Police allege the couple transferred more than $6m into accounts in China and Hong Kong before leaving. Almost $4m remains unaccounted for.
Gao had requested a $100,000 overdraft from the bank but was given the massive sum after a teller's "keying error". The teller was later fired.
Hurring was arrested upon arrival at Auckland Airport on February 25 and has appeared before Manukau District Court.
She will reappear in the Rotorua District Court on Thursday.
Detective Senior Sergeant Mark Loper of Rotorua police said Hurring was facing a theft charge laid in December 2009 and a series of charges related to money laundering laid in February 2010.
"As a result a warrant was issued and an Interpol red notice issued. She made a voluntary appearance and was bailed to appear March 10."
Westpac media relations manager Chris Mirams said the bank had nothing to say: "It's before the courts now."
Hurring, from Blenheim, is believed to have separated from Gao last year shortly after a gambling blowout in Macau.
The first sign that she wanted to return to New Zealand came last May when she had email and phone contact with Loper.
Negotiations continued for several months but police ruled out "doing a deal" to bring Hurring home.
She left China for Hong Kong in October.
Kara's mum Sue said the ordeal had placed an enormous strain on her but she still supported her daughter.
"I wish this whole thing would hurry up and pass.
"I think what is going on in their lives is absolutely trivial compared to what's happening in Christchurch."
The story so far
May 7, 2009: Rotorua petrol station owner Leo Gao and Kara Hurring flee to Hong Kong after a banking error credits Gao's account with $10 million.
June 09: Hurring's sister Aroha joins them on an overseas trip.December 09: Westpac is forced to pay legal fees to a casino in Macau after losing a court bid to recover money gambled by Gao.
March 10: The couple contact family in New Zealand.
October 10: Hurring crosses into Hong Kong from China.
February 25: Hurring is met at Auckland airport by police.