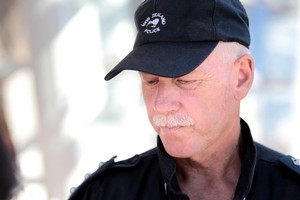 Of all the emergency workers in Christchurch, these 16 police staff may have the worst job of all: identifying the broken bodies of the dead.
The Disaster Victim Identification (DVI) team, assembled from around New Zealand, is commanded by Inspector Mike Wright. His biggest challenge is to try to get his team to get some sleep.
Haunted by images of 165 bodies, some of small babies, and rattled by constant aftershocks, some can't sleep. But also they don't want to stop. Relatives are anxious to have their loved ones returned to grieve over and the DVI team is working around the clock.
Wellington-based Wright arrived in Christchurch at 3am the day after the quake. Having worked in recovery operations after tsunamis in Southeast Asia, Solomon Islands and Samoa, and after the Australian bush fires, he has seen a lot of death.
"My team has international experience in DVI," he says. "They are trained for what they are dealing with, but we offer counselling and support for those who need it.
"My biggest challenge has been to hold people back so they don't run themselves into the ground."
His team includes police officers, pathologists and experts in dental records, fingerprints and DNA testing.
The 16-member team has been helping Urban Search and Rescue (Usar) teams at the scene of collapsed buildings and bringing bodies back to the mortuary set up at Burnham Military Camp for formal identification. By yesterday, 165 bodies had been retrieved and only 44 identified.
No one really knows how many people were in the CTV building at the time of the quake, Wright says, nor how many are still inside now. He had the heartbreaking task of telling families some victims might never be recovered.
"Regrettably, for some families, we may not be able to achieve closure - particularly those in the CTV building which was subject to a very intense fire," he says.
He has made it his personal pledge not to make any mistakes in identifying victims - which means the process can be time-consuming.
This has angered victims' families, some of whom revealed to the Herald on Sunday last week that they had visually identified their loved one's bodies on the afternoon of the quake, but were still waiting for the body to be formally identified and returned to them.
But Wright says the repercussions of getting it wrong are "huge", and this has happened in other disasters internationally.
"The coroner has a high threshold of identification and it takes time. That's the reality of it. My team is focused on bringing this to a close for the victims and the families."
He has been humbled by the community spirit in Christchurch. "They will bring this city back. I am here for the long haul. My guys want to get this job done."