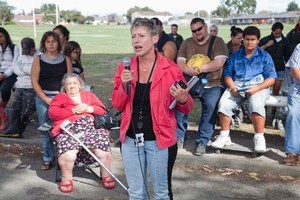 She has left her own ruined home just a few streets away to speak at the carpark next to the Hampshire shops. Like her constituents, she smells. Her last shower was the morning of February 22. She sleeps on a mattress just inside the front door, cooks on a gas stove and knows her home will be bulldozed.
Labour MP Lianne Dalziel's is a discordant voice at a time when few dare criticise the emergency response. It is hard to complain, when the simple act of breathing means you're better off than some.
Her voice belts through the microphone to a crowd of about 100 people whose needs are so basic it is hard to understand how they have yet to be met. These suburbs on the east of the city exist in a vacuum.
Dalziel tells them: "This is our tenth night without water, power and sewerage. I'm worried about people's health."
Official referrals to websites are ridiculous in areas where there are no services. "Dub-dub-dub-go-to-hell was the message we had for them," she says of meeting with officials.
Her protests on behalf of people who are living day-to-day have earned Dalziel criticism for politicising the issue. There's courage in daring to speak of failures by authorities, especially when Dalziel is as affected by the quake and its aftermath as those around her.
For a politician, some words are not as carefully chosen as they might be. In talking of earthquake predictions from "moon man" Ken Ring, she suggests sticking a beer bottle in him in a way once made infamous by Labour colleague Trevor Mallard. "And then break it," she adds.
Later, she refers to faked "sincerity" in the same breath as she speaks of Prime Minister John Key "lining up with people who have experienced absolute tragedy". Sometimes, she admits, she can say things that are "silly".
But the problems Dalziel lists are echoed in dozens of interviews done by the Herald on Sunday in these ruined suburbs. There are kilometres of streets here where portable toilets have yet to arrive. Food is plentiful but it would make a dietician turn green; people soon tire of sausage sizzles when they become the staple diet, accompanied by a fine dusting of silt.
Dalziel says: "These people have waited before. The level of tolerance on this side of the city is not there. I knew what went wrong last time. They've actually let it happen again.
"The council is so stupid. Council treats everything as business as usual. Do you know how they allocated the portaloos? It was who rang their 0800 number the most. If you don't have power, phone ... how can you ring?
"Every time I speak out I get told I'm politicising things. I'm not apologising to anyone for speaking out."
She has studied the aftermath of quakes following the one on September 4 and says all sides of the political spectrum need to be included.
Community leaders and experts need to be involved. All information should be made public.
"People say 'of course the centre of our city must remain where it is'. I actually think we might need to avoid liquefaction areas. I do sit here in Bexley and worry about the future. I wonder if it has a future."