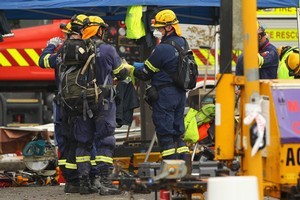 An Australian searcher who helped remove victims from the earthquake-ravaged Canterbury TV building says bringing closure to families was his way of coping with the devastation.
Queensland Urban Search and Rescue (USAR) member Simon Johnstone is one of a team of 70 heading home after spending 11 days in Christchurch, and recovering 43 bodies from the CTV building following the horrific February 22 magnitude 6.3 earthquake.
"Every job you do whether it be looking for a live person or a deceased person, if you get a result the positive thing is you get closure for someone's family," Mr Johnstone said.
It has been non-stop for the Queensland USAR team. They responded to the floods and cyclone in Australia, and shortly after, also answered to Christchurch's calls for help.
Despite already witnessing the effects of natural disasters, Mr Johnstone said he was still shocked by "the scale of it all".
"...the magnitude of the whole thing, just walking into (the city), not a sense of panic but still disbelief."
The team worked on finding survivors in the CTV building, but were unsuccessful.
Teammate Paul Beck said searchers are trained to switch off their emotions, but admitted that was not always the case.
"One of the hardest things was a memorial we had for the families. As we walked out, seeing the families holding pictures of their loves ones that was pretty hard emotionally."
He said he was looking forward to seeing his family in Queensland, who have been worried about the aftershocks still rocking the city.
"Obviously coming from a country like Australia, we don't deal with that sort of thing and the aftershocks is quite an experience for us, but we are starting to get used to them now."
"You get the phone calls from the family checking on us every time they hear there is an aftershock."
The Queensland USAR team is being relieved by a group of 30 arriving from Australia today.
Earthquake Recovery Minister Gerry Brownlee again thanked the Australian crews, saying "their generosity has been extraordinary and we are very grateful for it".
- NZPA