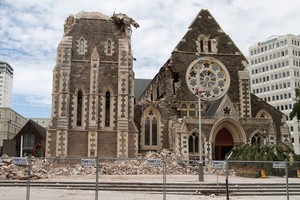 The Dean of Christchurch Cathedral, Peter Beck, has told of his elation upon hearing no bodies had been found in the wreckage of the cathedral and its collapsed spire.
Dean Peter told Radio New Zealand's Morning Report programme he received a phone call shortly after 1am today, informing him of the good news.
"We were expecting that when the phone went it would be time for us to don our clerical gear and go in and expect to be saying prayers with the dead," he said.
Instead, Urban Search and Rescue's Ralph Moore delivered the news that the site had been cleared without further bodies being found.
"I just burst into tears," said Dean Peter.
"It was just astonishing. I was just speechless at that news."
Dean Peter praised the USAR teams for the painstaking and meticulous job they had done in carrying out the recovery operation at the site.
He said he had given the USAR teams two priorities while they were undertaking the recovery operation at the cathedral, the first of which was to take care of themselves "because it's a very dangerous environment to be in".
He had also asked that they take the bodies - which they had anticipated would be found in the rubble - "as gently and as gracefully as you can".
"I couldn't ask for a more dedicated and committed group of people doing that work," Dean Peter said.
It was originally feared as many as 22 people could have been trapped in the cathedral when the earthquake struck.
Superintendent Sandra Manderson said this morning that she was trying to find out where that figure had come from.
She said it was highly likely the estimated final death toll would now be revised downwards.
The current death toll stands at 165, after two more bodies were recovered from the CTV building yesterday. Police say 38 bodies have now been formally identified.
"I've been in contact early this morning with people dealing with the missing persons list, and they're going through it as we speak and revising it," Ms Manderson said.
"Initially we had hundreds of people on the list, so it will be really good if that does go down, and it's highly possible."
At a press conference this morning, Fire Service search co-ordinator Paul Baxter said it had been a "surreal feeling" for search teams when they cleared the building without finding any bodies.
"They obviously expected to find people because of the reports and they are still dedicated to the task [of recovery operations in other parts of the CBD]."
Police also confirmed at the press conference that CCTV footage from inside the cathedral at the time of the earthquake was being reviewed.
Dean Peter said there would be a time for thanksgiving that no bodies had been found in the cathedral, however he asked that people keep the other victims of the earthquake in their thoughts.
"I hold in my heart, as I'm sure we all do, those many, many people who have been killed and their loved ones who are mourning them at the moment," he said.
Ms Manderson said recovery work was continuing elsewhere in the central city.
"They've been working really long hours, really hard, and with great respect to the people that they're serving," she said.
"There's just huge amounts of rubble all around the town. Much of that has been searched, but there's still work to be done."
Some areas would be searched again.
The recovery operation is ongoing at the CTV building and internal shoring-up work has been completed at the Forsythe Barr building.
Meanwhile, six recovery assistance centres will open this morning in the hardest hit areas of the city, offering a range of services and information for people who need help.
Social Development Minister Paula Bennett said yesterday the "one stop shops" would provide face-to-face services and information from agencies like Work and Income, Housing New Zealand, Christchurch City Council, Red Cross and Salvation Army.
More non-government organisations would join these agencies over the coming days to ensure a wide range of services are available.
Most recovery assistance centres will be in the hardest hit suburbs in east Christchurch such as Aranui, Linwood, Dallington and New Brighton.
Prime Minister John Key yesterday had a first-hand look at the quake-ravaged eastern suburbs where many still lack basic utilities such as power and running water.
He talked to locals in the suburb of Bexley who expressed their frustration at their plight.
Mr Key acknowledged the "utter devastation" of the eastern suburbs and moved to reassure residents and the wider public that the Government was doing "everything possible".
He said the inquiry into the earthquake and the rescue, recovery and relief operations - which he announced on Thursday - would deal with the way the eastern suburbs had been treated.
The cordon blocking off central Christchurch will be reduced tomorrow.
Civil Defence head John Hamilton said four green zones had been established at the edge of the cordon area and two of those would be open to the public at 2pm tomorrow.
Residents and business owners would be able to access the cordons from 8am to secure their properties, he said.
Mayor Bob Parker told NZPA he would like to hold a day of remembrance, and to open a safe walkway through the CBD for people to see the destruction.
"Perhaps it [the day] can start with a remembrance service in Hagley Park and a silent procession into the city as part of the grieving process.
"We need to have that opportunity to remember, to grieve not only for the people that we have lost, but also for those buildings that are part of the story of our lives."
- NZ HERALD STAFF, NZPA