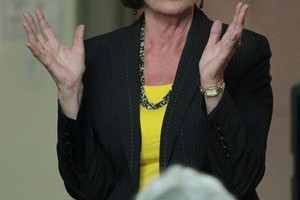 More than 1700 students from two schools badly damaged by the Christchurch earthquake are being relocated, Education Minister Anne Tolley says.
Marian College and Avonside Girls' High wouldn't be opening any time soon, Mrs Tolley said today, and their students would share space with two other schools which were relatively unaffected - Burnside High and St Bedes.
"One set of students will attend in the morning with the other school having classes in the afternoon," Mrs Tolley said.
"Exact details have still to be finalised but this is a positive step forward."
That will see about 4000 students back in class.
All schools had to have a structural report, and of those carried out so far on the 121 state schools in Christchurch City, 76 had been deemed to be safe and were preparing to open.
Mrs Tolley asked parents to be patient.
"We must ensure that schools are safe for students and we are doing all we can to get school open as soon as possible."
By the end of next week a plan would be in place to get all Christchurch kids back into schools, even those without a school to go to, Mrs Tolley told National Radio.
There were more than 10,000 students whose schools can't reopen and the ministry was looking at putting re-locatable rooms onto sports grounds and using space in other schools.
About 19 high schools and between 12 and 14 primary schools probably won't reopen.
In the west and north, many schools would open but some children would need to learn by correspondence.
About 70,000 people left Christchurch after the quake, but many would return when schools started and that would help with the rebuild, Mrs Tolley said.
About 4300 students had re-enrolled in other schools around the country.
"That's an enormous amount of children, I think that indicates how keen parents are to see their children back in schooling."
The Government would help by easing enrolment rules and regulations around classroom spaces. Funding was being continued in the meantime.
- NZPA