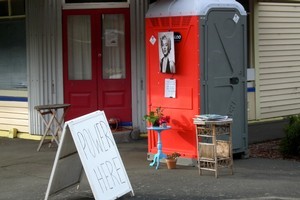 Demand for temporary toilets in Christchurch is so high that one company is importing them from Australia - but private households won't be allowed to hire them.
Hirepool operates Port-A-Loo and so far it had sent 500 to the city, chief executive Mark Powell said.
Under legislation because the units are deemed assets of importance, Civil Defence has to co-ordinate where the toilets go.
Staff were having a hard time explaining the company's legislative obligations to residents, rest homes and businesses who just wanted to sort sanitation problems themselves, Mr Powell said.
"We're not actually able to hire out to private citizens. Our guys are driving past people and they're being waved down by people who are yelling 'stop, I need a toilet'.
"It's really hard saying 'I'm sorry, I can't help'."
Mr Powell advised residents to call authorities and tell them how many people were in their street so their needs could be addressed faster.
In the meantime, the company was sourcing 300 more toilets from Australia.
Existing obligations to events such as Hamilton 400 V8 Supercars, a nationwide concert tour and the World Cup were all likely to be impacted by the city's damaged sewerage infrastructure.
Pasifika Festival director Ole Maiva said the organisers had been asked by Civil Defence to release about 80 of the 250 portable toilets for Christchurch.
Mr Maiva said the main festival event at Western Springs Park on March 12, which attracts crowds of more than 200,000, was unlikely to be affected. But it would mean resiting many of the toilets so they could be more easily serviced throughout the day.
Prestige Loos manager Edward Watford, whose company supplies toilets to the festival, said Civil Defence had asked for help in supplying portable toilets to Christchurch.
But Mr Watford said the company's fresh-flushing toilets were found to be unsuitable because they required large volumes of water. The company had sub-hired about 60 chemically operated toilets for the festival, which had been sent to Christchurch.
Hire companies were sending prefabricated ablution blocks, small excavators and diggers to clean up sludge from liquefaction, and lighting towers.