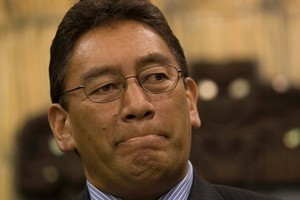 Te Tai Tokerau MP Hone Harawira says he will decide by the beginning of next month whether he will form a new party or "a loose coalition of independent groups" to contest this year's election nationally.
Mr Harawira quit the Maori Party late last month to become an independent MP as part of a deal with the party's national council.
It came after caucus colleague Te Ururoa Flavell made a complaint over his criticism of the party's relationship with the Government and complaints that National was developing anti-Maori policies.
When he resigned, he said he was considering forming a new political party, and yesterday said he was heading out to gauge support.
"I could quite comfortably sit back and focus on the Tai Tokerau electorate but there's a huge amount of pressure coming from people all around the country, not just Maori, who want to see a party that's prepared to fight for the rights of the most vulnerable in our society."
Mr Harawira said Maori would suffer due to the pressure on health, education and welfare budgets signalled this year, which would be worsened by the costs of the earthquake.
"A lot of people can see that if I am successful in fighting back on some of these things, a lot of other people are going to be saved by it."
Mr Harawira said he was going to "build a movement", and added that an option presented to him was that if he held his seat, others associated with him could come in as "a loose coalition of independent groups".
Mr Harawira is said to have had discussions about a new party with left wing figures including Matt McCarten, while former Green MP Sue Bradford has previously indicated interest.
Mr Harawira said he expected to make a "formal decision" about the new party by the start of April.
Under his resignation agreement, he will not challenge any Maori Party MPs in the election and the party will exercise his proxy vote when he is not in the House.
- Additional reporting: NZPA