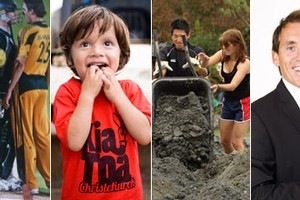 Katherine Irvine has found people from all walks of life doing what they can to contribute to the earthquake appeal.
Radio Sport
A range of one-of-a-kind sports memorabilia, including a 2011 Rugby World Cup All Blacks jersey to be signed by the entire team and race car driver Scott Dixon's helmet, has been put up for sale on TradeMe and is raising around $20,000 a day for the Christchurch relief fund.
Radio Sport has been inundated with donated memorabilia from the likes of Andy Haden and Martin Crowe since it began the auction on Tuesday.
The most valuable item on offer is a 2011 Rugby World Cup All Blacks jersey that will be signed by the 2011 All Black team and donated by coach Graham Henry later in the year.
As of last night, bidding was at $21,550.
Also up for grabs is a one-piece swimsuit worn by Rachel Hunter and a signed poster of of the face-to-face stand-off between Black Caps batsman Scott Styris and Aussie fast bowler Mitchell Johnson in the 2010 ODI series.
Radio Sport programme director Chris Gregory said the station had raised $75,000 in three days and hoped to hit the $100,000 mark before the end of the week.
There is also the chance to have one-on-one time with some of New Zealand's sporting greats, such as Sir Bob Charles, who is offering a round of golf at Clearwater golf course in Christchurch to the highest bidder, and Black Caps Scott Styris, Kyle Mills and Chris Martin, who are offering a coaching clinic.
Big Little City
Auckland's central business association Heart of the City have organised a myriad of goods and services donated by central Auckland businesses to be auctioned on TradeMe to raise money for the Red Cross Christchurch earthquake fund. Among the luxury goods, art and restaurant vouchers on offer is a man's watch worth $8,000 and two $2020 Louis Vuitton travel bags.
Project Manager for Heart of the City Michelle Dodds said the association has had a phenomenal response from Auckland CBD businesses who have been shocked by the devastation caused in Christchurch's central city.
Heart of the City has already raised over $30,000 and expect that figure to grow by the time the auction closes on Monday night.
"There is a whole lot of people out there who want to do something so it was a way of harnessing that intent and bringing it together in a meaningful way,"
Students
While the 2000-strong Canterbury student army help shovel silt off the streets of Christchurch, other students from universities and polytechnics around the country have rallied together in support of the devastated city.
Vice-president of the Auckland University Students Association Max Hardy said University of Auckland students launched a fund-raising appeal in the hours after last Tuesday's earthquake and have already raised $20,000.
"There are likely to be thousands of volunteers from universities around the country collecting thousands in fundraising appeals," said Mr Hardy.
Nearer to the quake's epicentre, the Otago University Students Association delivered more than 17,000 lunches to feed the volunteer student army in Christchurch last weekend and are planning another lunch run this weekend.
Otago Students Association media advisor Alasdair Johnson said Otago students also make up the bulk of volunteers at the "Christchurch embassy" established at Dunedin Railway Station, where quake victims can access support agencies and charge their mobile phones and laptops.
"Basically, it's just a drop-in centre for people to say hi and get advice. We have got the Ministry of Education here in case people are wanting to put their kids in school for a few weeks," he said.
Society of Beer Advocates
New Zealanders will be able to wind down after a long week of work with a cold glass of beer, and at the same time help those in quake-devastated Christchurch.
The Society of Beer Advocates has organised various bars around the country to donate all profits from beer sales tonight to the Red Cross earthquake appeal.
All bars will have a minute's silence at 7pm followed by an earthquake fundraising auction or raffle.
The bars are Andrew Andrew in Auckland, House on Hood in Hamilton, Bar Edward in Wellington, The Freehouse in Nelson, The Old Bank in Blenheim and a venue yet to be announced in Dunedin.
Spokesman Martin Bulmer said breweries from around the country, such as boutique brewery Moa in Blenheim, have donated beer to bars in the region but it will be up to individual bars to determine the percentage of profits that will go to the appeal.
"It's a bit of a boot-strap affair. As the word has gone out bars around the country have said 'yeah, we'll help, we'll step in, we'll do something'. We have basically made it as wide as possible to encourage bars around the country to see if they can do something as well," said Mr Bulmer.
Mr Bulmer said many smaller breweries in the Christchurch region, such as the small-scale Three Boys Brewery, had been extensively damaged in the quake but fortunately there had been no loss of life in the beer community.
Mr Vintage
Auckland-based t-shirt company Mr Vintage is donating 100 per cent of profits from the sale of three limited edition red and black t-shirts to Christchurch relief funds. The campaign, launched on Tuesday, has already sold over 1,000 t-shirts, raising more than $30,000 for St John, the Canterbury SPCA, Victim Support and the Salvation Army.
Modelling the $49.95 t-shirts, that feature a Richter scale graph and the words of support "Aroha Christchurch", are local celebrities Hayley Holt, Shannon Ryan and Ben Boyce.
Mr Vintage communications spokeswoman Melanie Michels said the company's suppliers had discounted t-shirt materials heavily for the cause and the company who manage the online payment systems have given the company 5,000 transactions for free.
The company has also provided the 2000-strong University of Canterbury student army, that has been assisting in the worst-hit Christchurch suburbs, with t-shirts to use as uniforms.
T-shirts are available at mrvintage.co.nz
Adopt a Christchurch Family
Dancing with the stars host Jason Gunn and his wife Janine Morrell-Gunn have rallied support from the local and international community for their Adopt a Christchurch Family fund.
Mrs Morrell-Gunn said the husband and wife team, who own Christchurch's Whitebait studios, were compelled to set up the fund in the wake of last Tuesday's earthquake after they provided financial assistance to two families following last September's earthquake.
"For us, it meant we helped two families get up each morning and keep going... we kept two families together and for us family is the foundation to rebuilding the future here in Christchurch," said Mrs Morrell-Gunn.
The couple has gained wide exposure in international media and has received donations from Japan, China, the United Kingdom and the United States of America.
The fund not only provides financial assistance but also makes smaller contributions such as thermoses for the elderly who may not have been able to boil water for a cup of tea in the last week.
"We are going into areas where people rely on their connections to the community and their community is in the same boat. So we are reaching out to the international community and saying 'hey, come be neighbours to these families'," said Mrs Morrell-Gunn.
SBS
Across the ditch, members of the non-English speaking community have donated more than a quarter of a million dollars to help those affected by the Christchurch earthquake.
The Special Broadcasting Service, which broadcasts in more than 70 languages, launched a national radio and online campaign earlier this week that managed to raise $322,988 in just one day.
Multilingual volunteers manned SBS offices in Melbourne and Sydney, fielding thousands of calls during the campaign that was held in partnership with the Red Cross.
SBS spokeswoman Sophia Spinelli said Australia's multi-cultural public broadcaster were compelled to fundraise after watching the devastating live footage of the earthquake's aftermath.
Spinelli said the broadcaster appealed for donations through 17 radio programmes, in languages such as Arabic and Italian, throughout the day on Tuesday.
"It was a really great opportunity for people who can't usually donate. A lot of the non-English speaking communities are very giving and they want to contribute, but quite often there's a language barrier there," said Ms Spinelli.
Sabato
Fine-food importer Sabato are donating 100 per cent of retail profits from its Mt Eden Store on Sunday to the Government's Christchurch earthquake appeal after many of its suppliers were shut down in the aftermath of last Tuesday's earthquake.
Sabato marketing assistant Helen Dixon said the company had been overwhelmed with the response to the gift baskets auctioned off on Trademe to raise money for the earthquake appeal.
"The TrademMe auctions have had a lot of positive feedback - particularly considering they were only advertised on our Facebook and Twitter initially. New Zealanders want to help Christchurch and it is a good incentive for them to donate if they also get something in return - and we are happy to provide that," said Ms Dixon.
Food writers Ray McVinnie and Julie Le Clerc will be in store for live cooking demonstrations throughout the day.
Visit sabato.co.nz for details.
Greenstone Energy
New Zealand-owned Greenstone Energy has donated 100,000 litres of jet-fuel at a cost of around $150,000 for Air New Zealand's humanitarian flights in and out of Christchurch.
Communications Manager Johnathan Hill said this equated to more than three truck loads - or enough fuel for 10 return flights.
He said the company wanted to help Air New Zealand connect friends and family who have been affected by the quake.
"The way we see it is as a collaboration between two Kiwi companies coming together to do the right thing for people at a time when they need it. We are a company that effectively is owned by every New Zealander", said Mr Hill.
He said the company, which owns Shell service stations, has 26 retail petrol stations in the Christchurch area, 16 of which are now open.
Expats in France
A group of New Zealanders living in France has donated more than $216,000.
On Tuesday, a limited edition amphibious boat signed by the All Blacks raised $208,700 for New Zealand Plunket at an auction in Paris.
A drinks and dinner benefit organised by the Kiwi Corner raised $5000 for the earthquake fund.
The Association France Nouvelle-Zélande gave $3000 to the Red Cross Earthquake Appeal and said the money was to support "our Christchurch friends" during this difficult time.
The association has also organised a number of fundraising events to raise more money for victims of the quake.
Collected
Red Cross - $23m
Salvation Army - $6.2m
ANZ/National - $3.3m
Fonterra - $3m
Westpac - $1m
BNZ - $2.8m
ASB - $3m
Telecom - $90,000 (from The Official Red Cross txt-to-donate service)
Vodafone - $566,437 raised by customers $1.25m raised by Vodafone New Zealand and Vodafone's worldwide sister companies.