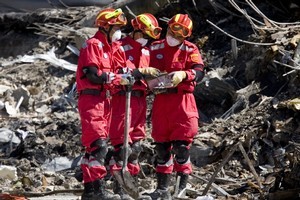 More than a week after Christchurch's devastating earthquake police say they are still treating the situation as a rescue mission, citing incidents overseas where people have been rescued alive after 10 days.
Overnight one body was recovered from the Pyne Gould building, Superintendent Russell Gibson told Radio New Zealand.
"Officially, yes, this is still a rescue operation...overseas it is not unusual to pull people alive after 10 days."
The official death toll from the February 22 6.3 magnitude quake stands at 161, and was expected to rise to about 240.
The names of two more earthquake victims were released by police this morning.
They are Ofer Levy, 22, and Gabi Moshe Ingel, 23, both of Israel.
The men were seen checking out of a hostel in Manchester St 15 minutes before the quake.
A further seven bodies have been identified and will be named in the next 48 hours after families have been informed, police said.
Meanwhile, deteriorating weather whipped up dust storms around Christchurch yesterday hampering search and rescue efforts, but the wind eased last night allowing significant progress to be made at the Christ Church Cathedral, Mr Gibson said.
"They've now started taking away beams and things from the bell tower, so we are at last going to see some movement in that area," Mr Gibson said.
Police had concerns about today's weather and the effect it would have on their work.
"The weather forecast is not good, and I understand the wind will get up again. It's still just a very dangerous area."
Mayor Bob Parker, responding to criticism that quake affected areas outside the of the city centre were not receiving help, said today everything that could be done, would be done.
"We can't do more. We really can't. We are flat out doing what we can for everybody."
Another 4000 chemical toilets were expected to arrive in the city, and many were earmarked for the east of the city.
Christchurch victims needed financial support, moral support and for New Zealand to stay behind them, Mr Parker said.
"One day we'll put all of this behind us. This too shall pass, but with your support it will pass in way that is perhaps easier for us to get through."
Police said one person was arrested overnight after they were caught stealing within the central city cordon.
The city was also hit by a number of aftershocks, the strongest measuring 3.9.
In London an estimated 2500 New Zealanders gathered at a service in Westminister Cathedral today (NZ time) to pay tribute to those killed in the quake.
A message from Prime Minister John Key was read and Hayley Westenra sang the national anthem.
Christchurch residents have also been warned about bogus Earthquake Commission (EQC) assessors after reports of people claiming to be assessors knocking on doors outside working hours. Genuine EQC assessment teams operated only between 8am and 6pm.
Civil Defence has also asked owners not to demolish buildings unless there's an immediate risk to public safety.
More quake victims were expected to be named today as the death toll continued to rise.
Yesterday, strong winds kicked up tonnes of silted dust from liquefied areas, with Mayor Bob Parker describing it as a terrible day.
Mr Parker toured Sumner, Mount Pleasant and Redcliffs after visiting his parents for the first time since the quake struck.
"The wind was just extraordinary and in some places it was difficult to stand," he said. "You could look cross to the whole of the city and see these enormous clouds of dust blowing down the main avenues."
The wind hampered the work of searchers, but did not halt it altogether, said the Fire Service.
Aerial operations, such as cranes with suspended baskets that are putting searchers into buildings, had to curbed.
Searchers reached above the 10th floor at the Hotel Grand Chancellor as they tried to make sure the 26-storey building was clear, no one has been reported missing from there, while a large steel support structure at the Christ Church Cathedral has been secured to an unstable wall.
Police announced three more names of victims yesterday: Jayden Andrews-Howland, 14, Paul Clarence Dunlop, 67, and Andrew Stephen Cochrane, 43, all from Christchurch.
About 400 family members of victims visited the sites where their loved ones were killed or are missing, after police put on a fleet of buses.
"It was a very emotional time for the families," Canterbury area police commander, Superintendent Dave Cliff said.
"It had been the first opportunity they had to see first hand the extent of the devastation, and the mood was definitely sombre and very emotional for them."
Meanwhile, the Red Cross has set up two grants -- an emergency and hardship grant and a bereavement grant.
The first is $1000 per couple or family, and $500 for single people, living in their homes without power or water or sewerage or people forced to leave their homes. The $10,000 bereavement grant is for the next of kin of victims.
People from overseas are eligible to apply for these grants.
The Red Cross has so far received more than $11.6 million in donations.
ACC will also provide entitlements for emergency care, medical treatment, rehabilitation and lump sum compensation for people significantly injured. It gives funeral and survivors' grants for spouses and dependants of the deceased -- including for visitors to New Zealand.
New Zealand workers are also entitled to income compensation.
The estimated cost of the earthquake to ACC is $370 million.
- NZPA