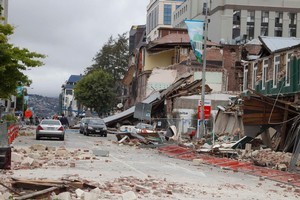 Glenn Prattley's broken body is in Dunedin. His heart has been left behind in Christchurch.
There has been no sign of his 5-week-old daughter, Taneysha, or his partner, Kelsey Moore, since the quake struck.
Mr Prattley was walking down Manchester St with the pair, as well as sister Rochelle and father Stan, to take them to a downtown bus stop.
He pushed his sister out of the way of falling glass, almost certainly saving the 21-year-old's life, but both siblings were knocked unconscious.
He woke up in hospital with a broken leg - but no sign of Taneysha or Ms Moore.
Eight days have passed and Mr Prattley, 28, has been transferred to Dunedin Hospital.
His father Stan told the Herald the missing girls had yet to be identified by police.
"We all think we know what happened ... but nothing has been confirmed yet. We're not getting told anything, but the police have to be 100 per cent sure.
"Glenn's pretty upset ... That's understandable."
A Crohn's disease sufferer, Glenn Prattley was unable to be reached for comment last night.
Last week, while wheelchair-bound in Christchurch Hospital, he told the Herald-Sun newspaper of the anguish of waiting.
"It's especially worse, given my daughter is only 5 weeks old. I only just managed to get out of there alive, let alone my 5-week-old daughter being able to get out ..."
His mother, Gail Prattley, said Taneysha was a tiny baby and weighed only 2.6kg when she was born.
"He saved Rochelle's life, but then he lost his daughter and his partner in the process," Mrs Prattley said.
"She was gorgeous. Just a wee, wee, wee dot ... but they adored her, absolutely adored her."
Glenn Prattley is one of many waiting for news of loved ones.
Robert Bijl, a long-time friend of CTV managing director Murray Wood, whose body hasn't been recovered, said yesterday the wait was frustrating.
"But what more can you ask for?" he said. "You can't ask for more than 24 hours a day."
Donna Tairakena, wife of Tetaki "Wally" Tairakena, who is also missing in the CTV building, said she was "just waiting" for news of her husband. She was resigned to the fact it would be his body, not him, coming home, but remained hopeful he would be found.
Mrs Tairakena said tremendous support from friends and family and her faith in God were seeing her through the ordeal, and she was feeling "at peace with everything. I just really believe that God's really helping, otherwise I'd be totally in pieces."
Yesterday afternoon, the families of those still missing within the rubble-strewn central business district were taken behind the police cordon to sites where victims are thought to be lying.
Superintendent Dave Cliff said the tour gave families the chance to witness the extent of the devastation in the central city.
"The mood was sombre and emotional but we think it was helpful for them to see the mammoth task Urban Search and Rescue teams have had to undertake."