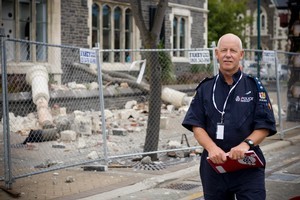 None of the earthquake victims at the temporary morgue at Burnham Military Camp have been identified by their families and most have suffered terrible injuries.
The extent of their injuries has shocked specialist disaster victim identification teams which worked at the Australian bushfires and the Boxing Day tsunami.
The head of the New Zealand Disaster Victim Identification team, Inspector Mike Wright, said staff were battling to return victims to their families as fast as possible.
Most victims from the CBD suffered crush injuries, which was making the job impossible without DNA samples, dental records and fingerprints.
Mr Wright told the Herald he could understand why families were frustrated.
"Hell, if it was me I would have the same [feelings] and I accept that's just their emotions and they should be allowed to say those sorts of things."
He wasn't taking personally the calls for the faster release of bodies.
"All I can do is look those people in the eye and say, 'We're doing our best for you.'
"But my number one goal is to do it correctly. There's no way I want any indication there could be mistakes along the way; that would be absolutely tragic," Mr Wright said.
The emphasis from the start was to treat the victims with dignity and respect. "It's an intricate process and does take a bit of time but people can be assured that we're putting all our resources into it."
The "emotionally and physically draining" work was taking its toll on staff, the New Zealanders involved in the process temporarily relieved by international crews to give them a few days' break.
At the mortuary, victims were being examined for any identifying clothing or bodily markings before a post-mortem examination was carried out as "unintrusively as possible".
Then a "fairly significant dental examination" was carried out before fingerprints were taken, each part of the process documented carefully and involving up to 35 people.
After all the information was collated the file was presented to the coroner, who made the final decision on each victim's identity.