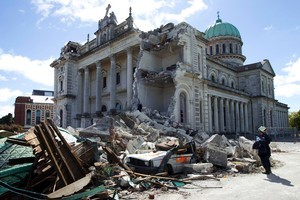 The dome of Christchurch's iconic Cathedral of the Blessed Sacrament will be removed after an engineering report revealed the dome could topple in an aftershock.
Engineers met the Catholic bishop, Barry Jones, yesterday to consider the future of the badly damaged basilica.
The engineers' report, based on an exterior inspection, reveals the dome is forcing weight-bearing structures outwards and presents a severe hazard to the surrounding area.
The removal of the dome can be done only by cranes at a distance from the building.
A decision on the future of the cathedral will not be made until a detailed engineering report is done when the cathedral is deemed safe to enter.
In 2000, the basilica was one of 10 buildings chosen to represent New Zealand architecture in a 10-volume series on architecture in the 20th century.