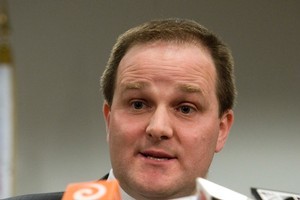 High-flying young Cabinet minister Simon Power says he will leave Parliament at the next election, a decision that has shocked Prime Minister John Key, who believes Mr Power would have made "a fine prime minister".
Mr Power, 41, the MP for Rangitikei, entered the House as a 28-year-old and over the past three years has won an enviable reputation as an intelligent, hardworking minister across his justice, commerce and state-owned enterprises portfolios. He has long been tipped as future leadership material.
Yesterday, he told the Herald it had always been his intention to leave politics after 12 years and a single term as a minister. He planned to pursue a career in the private sector and the married father of two said there were no family or health reasons behind his decision.
"I had a three-year plan which we'd decided to execute once we came into Government and it had always been my plan to do that and then to exit.
"I've been privileged to be given all of the portfolios I asked for when we came into office. It was a big range and big lot of work. I've been given enormous scope for reform and that's what I've been able to do.
"I knew where I could handle a certain amount of structural reform across those portfolios and introduce a certain amount of change which each sector would be able to take. I understood that the next phase was going to be consolidation and settling down and that's not where my strengths are."
After three years in the Cabinet, Mr Power said, he was proud of his achievements such as introducing protection orders for victims of domestic violence, better treatment of victims and children in the justice system, big advances in a single economic market with Australia, establishing the so-called "super regulator" for financial markets and taking electoral law reform "off the political agenda".
Mr Key said he was "stunned and flabbergasted" when Mr Power told him of his decision on Sunday evening.
"We just didn't see it coming. "I think he's done an outstanding job as a minister ... He's very bright and extremely hardworking and pays attention to detail. I think he would have made a fine Prime Minister."
But Mr Power said he had never harboured leadership ambitions and there was nothing more he wanted to achieve as a minister or politician.
"I want another challenge. I've always been someone who's set myself goals and targets and I want to do that outside of public service."
He indicated he had ambitions "to run something", probably in commerce.
Mr Power said he had not wanted to make the announcement so soon after the earthquake but felt he had to clear the air before his annual local electorate committee meeting this month.
"I owed it to them to be honest about what my intentions were."
Mr Power won Rangitikei with a majority of 289 in 1999. By 2008, he had built that up to 12,042 votes.