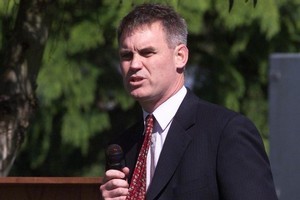 More than 300 elderly people have been moved from quake-damaged residential care centres in Christchurch, some without the knowledge of their families, Canterbury District Health Board (DHB) has admitted.
The DHB was this week criticised by the family of 89-year-old Lorraine Dunn for not consulting them over her proposed move to Nelson.
Since the earthquake eight days ago, some elderly have been transferred to other regions or to undamaged facilities within Christchurch.
The DHB said it tried to contact families before transfers, but not everyone was reached.
"This is not what we would ever do in ideal circumstances, but these circumstances are far from ideal," DHB chief executive David Meates said.
"Our social workers and the receiving DHB staff from around the country are working hard, and will continue to work hard to contact families affected by this transfer."
He said the decision to move people was not taken lightly.
"I know staff are feeling very upset about the way they have had to operate, without the luxury of time to work with families as they usually would.
"This has been a hard call to make, but one of many hard calls that will be needed as we deal with the aftermath of this disaster."
Family who believe their relative has been moved can contact their residential care centre, Mr Meates said.
The Canterbury DHB has established a 24-hour assessment centre for frail elderly at Princess Margaret Hospital.
Vulnerable older people that urgently require assistance because of health or disability needs should contact Older Persons Health on 03 337 7765.
Mrs Dunn's family told the Christchurch Star newspaper when they learned she might be moved out of town, they urged doctors to find an alternative and left several phone numbers where they could be reached if she was to go.
But when two of Mrs Dunn's granddaughters called at Princess Margaret Hospital, they found her in a wheelchair with all her belongings and medication packed and wearing a label - "Nelson".
"She was there with a tag on her chest all ready to go," son Peter Dunn said
Mr Dunn refused to allow his mother to join a waiting bus and took her home.
She was now in a resthome in Papanui.
- NZPA