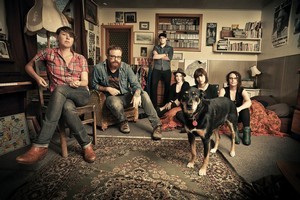 The Eastern have spent countless weeks on the road over the years, driving from town to town on an almost endless tour of New Zealand.
But for their most meaningful and important set of shows ever, the Canterbury band aren't leaving home.
They are about to take their swaggering country songs to makeshift backyard stages in the earthquake-damaged suburbs of Lyttelton and Christchurch.
All the gigs will be free - played to small crowds in living rooms or on lawns. None will be a grand production.
Instead, lead singer and songwriter Adam McGrath says they will be a message about a devastated city that refuses to lose its voice.
"If people can have a reason to get together and if we can be that reason, that's an affirmation. An affirmation of our life - that we're still kicking.
"It doesn't mitigate any of the tragedy or the pain people are feeling. It just gives them a moment away from it. To feel okay about things for a little bit."
Though they were on the road in the North Island when the earthquake struck, the band has not escaped unscathed.
Singer, songwriter and banjo player Jessie Shanks has serious damage to her Lyttelton house.
The venues they used to play at are gone and the third album they planned to record in March is on indefinite hold.
But McGrath says they are determined to not let the disaster destroy the genuine and close-knit sense of community he has found in Christchurch and Lyttelton.
This tour is his way to "hoist a middle finger" at last week's 6.3 magnitude earthquake, he says.
Seven shows were booked on the first afternoon he publicised the tour and he expects many more to be organised in the coming days.
"We may not be the best band in the world or the best looking band but we can work," he says.
"If anyone wants it we will come. We will come and play for you. We're trying to have a sense of solidarity - trying to find a little peace."
It is an attitude partly born of McGrath's musical influences and idols.
In the wake of the earthquake, he shared a video with fans of rock legend Bruce Springsteen singing as the wrecking balls closed in on the iconic and much loved Giants stadium in New York.
A single phrase was sung over and over: "Hard times come and hard times go".
That's something McGrath wants his town to remember in the wake of the earthquake that changed it forever.
"A lot is gone but our community still exists. We are still together."