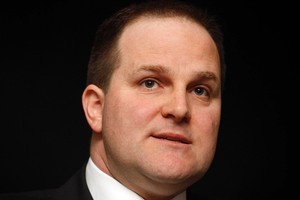 Cabinet Minister Simon Power is retiring from politics in November to return to the private sector.
The high-flying National MP is Minister of Justice, commerce, state owned enterprises, Minister Responsible for the Law Commission, associate finance, and Deputy Leader of the House.
His name has frequently featured in future leader predictions but today he announced he was leaving Parliament.
Mr Power, MP for Rangitikei, said he was looking forward to continuing to contribute to New Zealand's growth, but in the private sector.
"It's time for new challenges and new opportunities," he said in a statement.
"I've been extremely privileged to serve in the Cabinet under Prime Minister John Key, and as the Member for Rangitikei since 1999.
"It's been an exciting and rewarding time and I've achieved a lot, but now I feel it's time to move on to something else."
He discussed his decision with Mr Key and Deputy Prime Minister Bill English, who were supportive of his move.
"I've thoroughly enjoyed my time as the holder of three warrants in this Government, and am not closing the door on future public roles, but it's time for new challenges."
Mr Power, ranked No 4 in National, said he was proud of commerce reforms he spearheaded and his work to improve performance and disclosure in state-owned enterprises.
"And we have turned the justice system on its head with badly needed reforms."
"We have introduced police safety orders to combat family violence, the $50 offender levy to fund new services and initiatives for victims of serious crime, initiatives around sexual violence and the protection of children and vulnerable people, and DNA collection to help clear unsolved crime. We have also made it harder to get bail, removed parole eligibility for the worst repeat violent offenders, and targeted gangs."
Before the end of the year he wanted to see the financial markets authority up and running, changes to liquor laws, simplification of the justice system, progress on the single economic market agenda, and a review of the Securities Act.
"I'm grateful to the Prime Minister for allowing me to stay in my portfolios until the election so I can complete this important work.
"National's Rangitikei electorate committee will be selecting its candidate in the near future, and I look forward to supporting that person in the campaign, and working hard to ensure a John Key-led Government is re-elected in November."
Mr Power won Rangitikei with a majority of 289 in 1999 and retained it with a majority of 12,042 at the last election. He was a lawyer before entering Parliament.
- NZPA