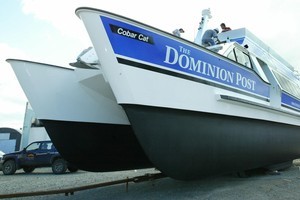 Commuters on a ferry have been rescued in Wellington Harbour this morning, after a large wave was believed to have knocked one person overboard in Worser Bay.
Wellington police maritime unit and other emergency services rescued 44 people off the ferry, which was 100 metres off Worser Bay.
The East by West ferry was believed to have been hit by a large wave in gale force winds, causing one person to fall overboard, who had to be rescued by emergency services.
All 44 passengers and crew have been accounted for and have been transported to the Worser Bay Yacht Club by emergency services personnel.
Wellington Free Ambulance staff are at Worser Bay Yacht Club providing immediate medical attention.
A National Rescue Co-ordination Centre said the ferry - which runs between Eastbourne and the city - was not sinking.
Spokesman Ross Henderson said the ferry had apparently broken down and the police launch, a coastguard boat and the surf lifesaving inflatable rescue boats had headed to its aid.
"There were some reports it was apparently taking on water. I am advised they were incorrect. The vessel has apparently broken down," he said.
Surf lifesaving clubs were sending inflatable boats to the ferry with crews coming from Paekakariki and other clubs within Wellington.
A passenger told Radio New Zealand he feared the ferry was about to capsize when the wave hit, and passengers had top hang on grimly.
"We were just hoping there were no more big waves coming along," he said.
- NZPA