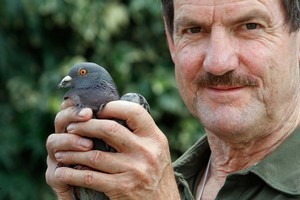 A feathery find in the rubble of central Christchurch has become a small symbol of hope for an earthquake-ravaged city.
A pigeon, named Barney Rubble by his adoptive carers, was pulled out of the debris of Christchurch Cathedral which partially collapsed in last week's quake, trapping and killing up to 22 people.
When Barney was dug out on Sunday night, he had been trapped without food or water for five days. A search and rescue worker combing through the rubble for people found the pigeon, and the SPCA was called in to collect the bird.
Canterbury SPCA veterinarian Ross Blanks said Barney's survival was a remarkable story to come out of the post-quake gloom.
Pigeons have a lifespan of between 10 and 15 years, but in urban areas tend to live for only five.
Dr Blanks said birds had a high metabolic rate, and needed to eat and drink reasonably regularly.
"It's just absolutely amazing that a creature has been pulled out. At this stage anything that comes out is amazing, isn't it? "
When Barney was first brought into the RSPCA, he was underweight, "a bit slow and a bit flat" but otherwise uninjured.
"We rehydrated him and fed him, and gave him some antibiotics and things, and he's really perked up," Dr Blanks said.
Between Monday and yesterday, he had gained 20g. An attempt to release him from captivity yesterday failed because he was still too weak. When Barney got stronger, there would another release attempt.
While the name borrowed from TV show The Flintstones had stuck, Dr Blanks admitted he did not really know if the bird was a male. "He might be a Betty."