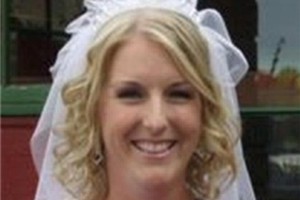 Eliza Braithwaite's wedding this Friday was nearly ruined by the earthquake.
Her dress was in a bridal shop in the ravaged central city.
The St Albans woman had ordered the gown from the United States and, after it arrived last month, took it to a Durham St shop for adjustments. However, the shop is in a cordoned-off area.
After some frantic days she obtained clearance to go with the shop owner to retrieve it.
"Every bride wants to look her best and choose a special dress for the occasion," she said. "I'm just so thrilled to get it back in time."
They had been considering Plan B - several friends had offered to loan their wedding dresses for her marriage to Blair Columbus, but it would not have been the same.
The dress was not the only thing disrupted by the quake.
Mr Columbus said the wedding was to have been in St Mark's Church in St Martins, but that was damaged and the ceremony had to be moved to Rosemount Winery, near Ohoka.
New arrangements for tables, chairs and decorations had to be made after the original sources became casualties of the quake.
Some out-of-town guests decided not to risk visiting Christchurch.
But the chaos of the past week will be forgotten on Friday, and Ms Braithwaite will have more reason than most brides to beam on her big day.
- APN