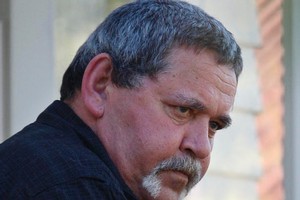 Paroled double murderer David Tamihere has had serious medical problems since being released from jail, the Parole Board says.
Tamihere was released from prison in November after 20 years behind bars for the 1989 murders of Swedish tourists Urban Hoglin and Heidi Paakkonen.
Mr Hoglin's body was found by pig hunters in Coromandel bush two years after he went missing, but Ms Paakkonen's body was never found.
Tamihere had skipped bail for a 1986 rape and was on the run when the offences were committed. He also had a manslaughter conviction for the 1972 death of an Auckland prostitute.
He was released with electronic monitoring after the board said it did not believe he would pose an undue risk to the community.
In a decision made public this week, the Parole Board said it had held a progress hearing on February 3 to see how Tamihere was coping.
"Since then Mr Tamihere's life has taken some unexpected turns. A feature of the last three months has been the serious medical problems he has had to deal with."
Details of those problems were withheld and his brother John Tamihere told the Herald last night he had no comment to make about them.
"He is working through these unforeseen problems," said the board. "In the middle of all this he and his wife have had to find alternative accommodation."
The couple had been living in his wife's Kris Tamihere's house in Glen Eden but have now moved into a new place near extended family.
A bid by Tamihere's lawyer to reduce the electronic monitoring conditions to an overnight curfew was rejected by the board.
But two unmonitored visits would be considered when proper applications were made.
"Mr Tamihere is doing very well on parole, the board decision said.
"But ... given his assessed risk of re-offending and high public profile, we consider it appropriate and necessary to see him for another monitoring hearing at the May session of the extended board."
When Tamihere was released last year he appeared slightly heavier, had short hair and seemed content and enjoying his freedom after 20 years in jail. He didn't want to comment and his wife said there would be a time for interviews, but not "at the moment".
His brother John, a former Cabinet minister who now co-hosts a RadioLive show, also supported him after his release.
In Sweden, the Hoglin and Paakkonen families meet often to share in their grief. Mr Hoglin's brother Stefan told the Herald they would have preferred Tamihere to stay behind bars.
"[The board] has told us he is improving and is a better person and it was coming up now.
"What do we say? It's the law."
Mr Hoglin said the families still had hope that they would find Ms Paakkonen's body.
Police had previously asked the Parole Board to make it a condition of his release that he reveal where Ms Paakkonen's body was.
But he always denied committing the murders, so board members said they saw no point in continually asking about her whereabouts.
- Staff reporter